Milka Peikova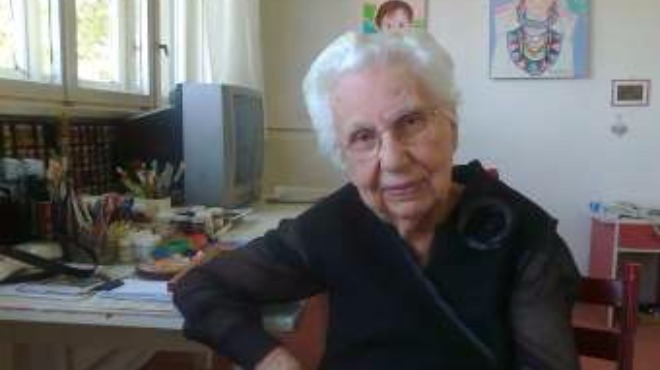 Milka Peikova (b. 1919, Pavel, Bulgaria, d. 2016, Sofia, Bulgaria) was a famous Bulgarian artist. She created paintings, posters, book covers, portraits of famous Bulgarians, textile designs and alphabets, both individually and together with her husband Georgi Kovachev-Grishata (1920-2012). She is a graduate of the Bulgarian National Art Academy, class of 1948. She founded Cosmos magazine and designed for the Women Today and Problems of Art magazines.
In 1979, she designed an alphabet that was extended to an 8-style Latin / Greek / Cyrillic stencil typeface—Milka (2016)—by a team of designers at Lettersoup that includes Ani Petrova, Botio Nikoltchev, Adam Twardoch and Andreas Eigendorf. The basic Milka font is a clean stencil design, while the Aged, Baked, Brittle, Crunchy, Dry and Soft styles are inspired by stencil and letterpress techniques and expand the usefulness by adding various degrees of warmth or roughness.
Milka Peikova also designed the first Bulgarian typeface for phototypesetting called Grilimil with her husband Georgi Kovachev-Grishata. She is the recipient of the first prize for a typeface at the Bulgarian National Book Exhibition and Illustration.