Fontfabric Type Foundry
recently turned 10 years!
They celebrated in a famous gallery in the heart of Sofia, Bulgaria. The exhibition represented some of the type foundry's fundamental typefaces in the form of art installations, posters, limited screen printed cards and the first type specimen of the foundry. Visitors also heard Fontfabric's story in person by its founder — Svet Simov.
Celebrate our 10th anniversary with 25% OFF of our whole portfolio until the end of the year. Use coupon code FF10Y25 for all our products on MyFonts.

Fontfabric 10 Years Anniversary
Typofest
Starts: 21 May 2018
Ends: 29 May 2018
Sofia / Plovdiv, Bulgaria
Typofest is a design biennial for people who love calligraphy, lettering and type. The third edition of the festival program contains an international conference and several workshops with remarkable professionals in the field.
Tobias Frere-Jones: Decompiling History
Starts: 20 February 2018 7:00pm
Ends: 20 February 2018 8:30pm
St Bride Foundation / 14 Bride Lane, London
History is a peerless teacher and anchor in type design. But is there only one way to learn from it? Frere-Jones has spent decades studying type history and working with today's rasterizing technology. Using recent releases as examples, he looks at a new speculative approach to history, and its application in current designs.
Over 25 years, Tobias Frere-Jones has established himself as one of the world's leading typeface designers, creating some of the most widely used typefaces, including Interstate, Poynter Oldstyle, Whitney, Gotham, Surveyor, Tungsten and Retina.
Tobias received a BFA in Graphic Design from the Rhode Island School of Design in 1992. He joined the faculty of the Yale University School of Art in 1996 and has lectured throughout the United States, Europe and Australia. His work is in the permanent collections of the Victoria & Albert Museum in London and the Museum of Modern Art in New York. In 2006, Royal Academy of Visual Arts The Hague (KABK) awarded him the Gerrit Noordzij Prijs for his contributions to typographic design, writing and education. In 2013 he received the AIGA Medal in recognition of exceptional achievements in the field of design.
Beyond Tellerrand So, 2017's edition in Düsseldorf was sold out again in March already. Why not being early then with announcing bits of what we have for the fourth edition in Berlin? As usual we give our very best to bring you motivating and engaging talks and topics from a wide variety of subjects. Presentations about design, technology, inspiration and much more paired with many opportunities to meet and chat to all the other people at the event.
Something new is cooking for you. Come back soon to hear more, but safe the date, if you want to kick off the new year creatively with us: January 15–17, 2018. Tickets are available from September 11th on. Stay tuned…
Granshan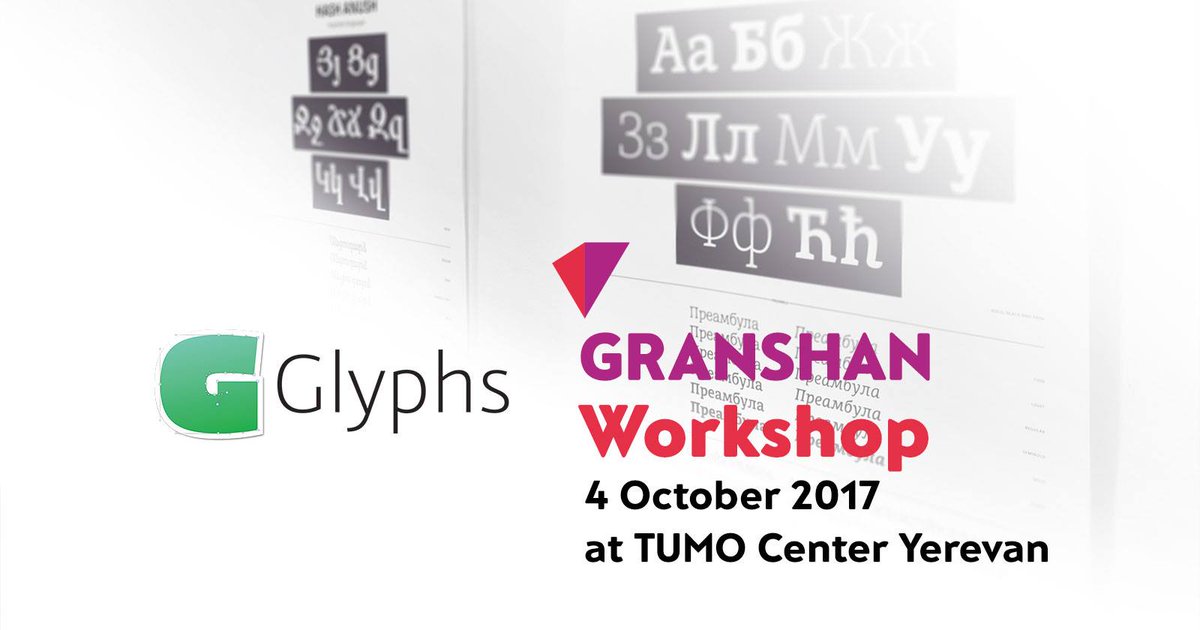 Granshan is the premier forum for typeface design and typography in a global context.
Our annual conference provides a space to present the research behind innovation in global typeface design, and make connections with exceptional practitioners in the field.
To mark our tenth anniversary we return to our original location, in Yerevan: a crossroads of cultures, and a place with a deep engagement with the written word. Our theme is "Living Letters": we are inspired by the combination of a growing awareness of the complexity in regional and local cultures, and the constant change in global typography driven by new ways of authoring and reading content.
More…
Gallery
Latino Film Festival, San Diego

25th San Diego Latino Film Festival
(March 15-25, 2018)
International
Poster
Competition
Submit your poster design for a chance to be a part of our history!
The San Diego Latino Film Festival (SDLFF) turns 25! We invite *design professionals, artists, and students* from all over the world to produce a commemorative poster design that will represent the history and legacy of the SDLFF.
SDLFF was born out of a desire to take a stand against the status-quo of cinema, to challenge the reigning and ever-present stereotypes about the Latino experience in movies, and to give Latino filmmakers the power of telling and sharing their stories, first-hand, about what it means to be Latino.
We invite you and all other visionary designers to be a part of our silver anniversary — 25 and still going strong! — by submitting your project to consideration. The commemorative poster design shall celebrate our core values and our passion for Latino culture.
Your design will receive national and international exposure, including but not limited to: the cover of the Official SDLFF 2018 Program book, print ads, TV commercials, social media posts, ads and web banners.
Typography Day, India
Typography Day will be organized for the eleventh time on 1st to 3rd March 2018 at Sir J J Institute of Applied Art, Mumbai in collaboration with the Industrial Design Centre (IDC), Indian Institute of Technology Bombay (IIT Bombay) with support from India Design Association (InDeAs) and Aksharaya.
The theme for this year's event is 'Beauty, Form and Function in Typography'
The event will feature a day of workshops on Typography and Calligraphy followed by two days of conference dedicated to 'Beauty, Form and Function in Typography'. The international conference will be devoted to addressing issues faced by type designers, type users and type educators.
Registration will start from 1st week of December 2017 onwards.
Graphic Design Festival, Scotland
Graphic Design Festival Scotland (GDFS) is an international organisation promoting creativity, innovation, collaboration and challenging ways of thinking through a programme of workshops, talks, discussions, exhibitions, competitions, music and public artwork.