Font Sampler
(EN) The quick brown fox jumps over the lazy dog. (NL) Op brute wijze ving de schooljuf de quasi-kalme lynx. (CS) Nechť již hříšné saxofony ďáblů rozezvučí síň úděsnými tóny waltzu, tanga a quickstepu. (HU) Jó foxim és don Quijote húszwattos lámpánál ülve egy pár bűvös cipőt készít. (RO) Înjurând pițigăiat, zoofobul comandă vexat whisky și tequila. (RU) Разъяренный чтец эгоистично бьёт пятью жердями шустрого фехтовальщика. (BG) Огньове изгаряха с блуждаещи пламъци любовта човешка на Орфей. (SR) Фијуче ветар у шибљу, леди пасаже и куће иза њих и гунђа у оџацима. (EL) Ταχίστη αλώπηξ βαφής ψημένη γη, δρασκελίζει υπέρ νωθρού κυνός. Type your own text to test the font!
Created by Donald E. Knuth with the METAFONT font-creation system as a companion to his TeX typesetting system. The letters are parameterized by a total of sixty-two parameters, most of which are independent of each other. (It is, in this sense, more highly-parameterized than any existing Multiple Master font.) Every style—serif and sans serif, monospace and proportional, italic and upright, bold, extended, condensed, and so on—is generated from the same sources, given different parameters.
Later, the fonts were converted to Type1 and TrueType, then eventually OpenType, formats, to integrate with modern operating systems.
The typefaces were developed over a period of time from 1977 to 1985, with minor adjustments thereafter.
The fonts are freely redistributable and usable for any purpose, personal or commercial.
Design, Publisher, Copyright, License
Design: Donald Knuth
Publisher: Donald Knuth
Copyright 1985 by Donald Knuth. All rights reserved.
License: SIL OPEN FONT LICENSE
Donald Knuth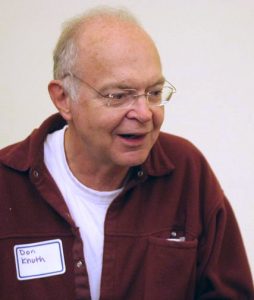 Donald Ervin Knuth (born January 10, 1938) is an American computer scientist, mathematician, and professor emeritus at Stanford University. He is the 1974 recipient of the ACM Turing Award, informally considered the Nobel Prize of computer science.
He is the author of the multi-volume work The Art of Computer Programming. He contributed to the development of the rigorous analysis of the computational complexity of algorithms and systematized formal mathematical techniques for it. In the process he also popularized the asymptotic notation. In addition to fundamental contributions in several branches of theoretical computer science, Knuth is the creator of the TeX computer typesetting system, the related METAFONT font definition language and rendering system, and the Computer Modern family of typefaces.
Free license
Download v.0.700: CMU Typewriter Text | Google Drive
Get permission to open a file on a Google Drive
• Open the file.
• On the "You need permission" page, click "Request access".
• The owner of the file will get an email asking for approval.
• After they approve your request, you'll get an email.