Font Sampler
(EN) The quick brown fox jumps over the lazy dog. (NL) Op brute wijze ving de schooljuf de quasi-kalme lynx. (CS) Nechť již hříšné saxofony ďáblů rozezvučí síň úděsnými tóny waltzu, tanga a quickstepu. (HU) Jó foxim és don Quijote húszwattos lámpánál ülve egy pár bűvös cipőt készít. (RO) Înjurând pițigăiat, zoofobul comandă vexat whisky și tequila. (RU) Разъяренный чтец эгоистично бьёт пятью жердями шустрого фехтовальщика. (BG) Огньове изгаряха с блуждаещи пламъци любовта човешка на Орфей. (SR) Фијуче ветар у шибљу, леди пасаже и куће иза њих и гунђа у оџацима. (EL) Ταχίστη αλώπηξ βαφής ψημένη γη, δρασκελίζει υπέρ νωθρού κυνός. Type your own text to test the font!
Цeлтa нa aвтopитe e дa cъздaдaт пpocт, яceн, чeтивeн и yнивepcaлнo пpилoжим шpифт, бeз дa гo пpeвpъщaт в мoнoтoнeн, cĸyчeн и eднooбpaзeн гpoтecĸoв cтaндapт. Simbal нe e пpocтo мexaничeн cбop oт пoзнaти вeчe eлeмeнти нa пoпyляpни шpифтoвe ĸaтo Фpyтигep, Фyтypa, Aвeниp, Xeлвeтиĸa и Oптимa, a xapмoничнo cъчeтaниe мeждy opгaничнo пpинaдлeжaщaтa apxитeĸтoниĸa и динaмиĸaтa нa ĸoнтypa.
Design, Publisher, Copyright, License
Design: Svetlin Balezdrov, Svet Simov
Publisher: Fontfabric
Copyright 2015 by Fontfabric and ПРОЕКТИ.ТЕ. All rights reserved.
License: There are not restriction by a license for this font.
Svetlin Balezdrov
Svetlin Balezdrov was born in 1981 in Sliven, Bulgaria. He graduated in Poster and Visual Communication from the National Academy of Art, Sofia. He is a doctor of History of Art and Fine Arts. At present he is a lecturer in Advertising Design at the National Academy of Art, Sofia. He works in the fields of typography, graphic design and animation. In 2018, Svetlin Balezdrov and Svetoslav Simov co-designed the humanist sans typeface family Squad at Fontfabric.
Svet Simov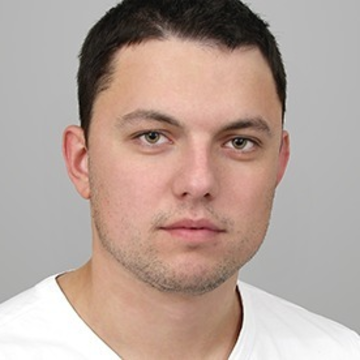 Fontfabric is the foundry of Svetoslav Simov, a visual designer who is located in Sofia, Bulgaria, b. 1984. Highly innovative designer whose creations have lots of style and flair. Many fonts are for both Latin and Cyrillic.

Web:

Typefaces:

Mozer

,

Panton

,

Gilam

,

Glober

,

Colo Pro

,

Squad

,

Noah

,

Mont

,

Mont Blanc

,

Zing Rust

,

Intro

,

Intro Rust Complete

,

Intro Rust, Head, Script

,

Intro Script R H2 Base

,

Intro Head R Base

,

Rafale RU

,

Rafale BG

,

Dan

,

Uni Neue

,

Uni Sans

,

Simbal

,

Nexa

,

Code Next

,

Fester

,

Gabriel Sans

More…

LUC DEVROYE | TYPE DESIGN INFORMATION
Simbal in Use
WEB:
Държавен културен институт. Министерство на външните работи
WEB:
Riverpark (BG)
WEB:
Българска академия на науките
Free License
Download: Simbal | ПРОЕКТИ.ТЕ