Description
Font Sampler
(EN) The quick brown fox jumps over the lazy dog. (NL) Op brute wijze ving de schooljuf de quasi-kalme lynx. (CS) Nechť již hříšné saxofony ďáblů rozezvučí síň úděsnými tóny waltzu, tanga a quickstepu. (HU) Jó foxim és don Quijote húszwattos lámpánál ülve egy pár bűvös cipőt készít. (RO) Înjurând pițigăiat, zoofobul comandă vexat whisky și tequila. (RU) Разъяренный чтец эгоистично бьёт пятью жердями шустрого фехтовальщика. (BG) Огньове изгаряха с блуждаещи пламъци любовта човешка на Орфей. (SR) Фијуче ветар у шибљу, леди пасаже и куће иза њих и гунђа у оџацима. (EL) Ταχίστη αλώπηξ βαφής ψημένη γη, δρασκελίζει υπέρ νωθρού κυνός. Type your own text to test the font!
Noah is not just another geometric sans but rather extending the limits of the x-height for a further flexibility of a typeface. This type family encompasses 72 fonts grouped into four subfamilies with different x-heights — starting from the lowest one Noah Grotesque through Noah and Noah Text to the highest one Noah Head — all they including styles from Thin to Black with matching true italics.
The geometric structure combined with normal width proportions, moderate contrast and vertical stress make this type family suitable for various typographic usages whereas the enhanced legibility of Noah Text optimizes it perfectly for long texts, and Noah Head intended for strong headlines. Sharp details, terminals with humanistic flavor and typographic alternates of letters, such as the binocular "g" or the geometric "a" successfully blend the best aspects of both geometric and grotesque typeface classics.
The underlying flawless functionality show coverage of Extended Latin and Cyrillic with span for more than 130 languages; support of many OpenType features, such as localizations, tabular numerals, inferiors and superiors, numerators and denominators, fractions, standard and discretionary ligatures, case sensitivity etc. The versatile characteristics of Noah type family are solution for every design challenge.
Features
Over 650 glyphs in 72 styles (Thin to Black)
Extended Latin and Cyrillic scripts for more than 130 languages
4 different x-heights
Normal width proportions
Moderate contrast and vertical stress
Geometric characteristics and terminals with humanistic flavor
Design, Publisher, Copyright, License
Design: Svet Simov, Radomir Tinkov, Stan Partalev
Publisher: Fontfabric LLC
Copyright 2019 by Svet Simov. All rights reserved.
License: COMMERCIAL
Svet Simov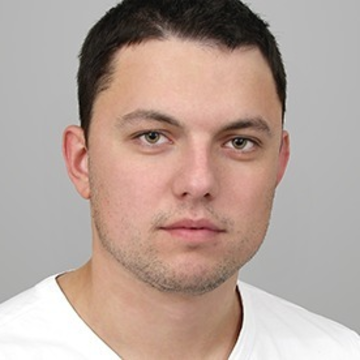 Fontfabric is the foundry of Svetoslav Simov, a visual designer who is located in Sofia, Bulgaria, b. 1984. Highly innovative designer whose creations have lots of style and flair. Many fonts are for both Latin and Cyrillic.

Web:

Typefaces:

Mozer

,

Panton

,

Gilam

,

Glober

,

Colo Pro

,

Squad

,

Noah

,

Mont

,

Mont Blanc

,

Zing Rust

,

Intro

,

Intro Rust Complete

,

Intro Rust, Head, Script

,

Intro Script R H2 Base

,

Intro Head R Base

,

Rafale RU

,

Rafale BG

,

Dan

,

Uni Neue

,

Uni Sans

,

Simbal

,

Nexa

,

Code Next

,

Fester

,

Gabriel Sans

More…

LUC DEVROYE | TYPE DESIGN INFORMATION
Radomir Tinkov

Based in Sofia, Bulgaria, Radomir Tinkov began his career as a graphic and web designer. "Typography is an essential part of almost every aspect of life and design in particular," he says, "so it got me curious and little by little I started to create fonts on the side." His earliest designs were limited to mainly display faces, but he knew that he wanted to create a deeper type library filled with more versatile and useful designs. "As time passed, I learned more and more and began to create custom typefaces to solve real problems in other design projects I was working on and just like that, my first marketable font was created."

Web:

Typefaces:

Phenomena

,

Sensa

,

Noah

,

Muller

,

Intro Rust Complete

,

Intro Rust, Head, Script

,

Intro Script R H2 Base

,

Intro Head R Base

,

Gilroy

,

Qanelas

,

Qanelas Soft

More…

MYFONTS | Radomir Tinkov
Stan Partalev

Type designer at Fontfabric in Sofia, Bulgaria. He was part of the Fontfabric team that designed the 521-font family Zing Rust, Zing Sans Rust and Zing Script Rust in 2017. In 2018, he published the free all caps lapidary typeface Colus at Fontfabric. In 2019, Svet Simov, Radomir Tinkov and Stan Partalev designed the 72-strong Noah family of geometric sans typefaces, which is partitioned into four groups by x-height from small (Noah Grotesque) to medium (Noah and Noah Text) to large (Noah Head).
Commercial License
Buy at: Fontspring
TT Norms Pro in Use