Books_XIX_01

"Typography in Bulgaria – XIX Century" is a review of books and magazines published in Bulgaria in the XIX century. The main purpose of the review is to showcase the history of the Bulgarian typography. It includes over 140 pages with illustrations, arranged by years.
Please, purchase the full version of the edition through our SHOP.
Primer with Various Instructions
  Description
Primer with Various Instructions (Bulgarian: Буквар с различни поучения, Bukvar s razlichni poucheniya, better known as the Fish Primer (Bulgarian: Рибен буквар, Riben bukvar, original spelling: Боукварь съ различны пооученіѧ), was a Bulgarian schoolbook, the first primer (and first book) printed in modern Bulgarian. It is considered by an author to be the first Bulgarian encyclopedia.
The book was written and published by Petar Beron in 1824. It is one of the most significant secular works of the Bulgarian National Revival. It was the first secular publication in modern Bulgaria.
Source: Wikipedia
Sunday Book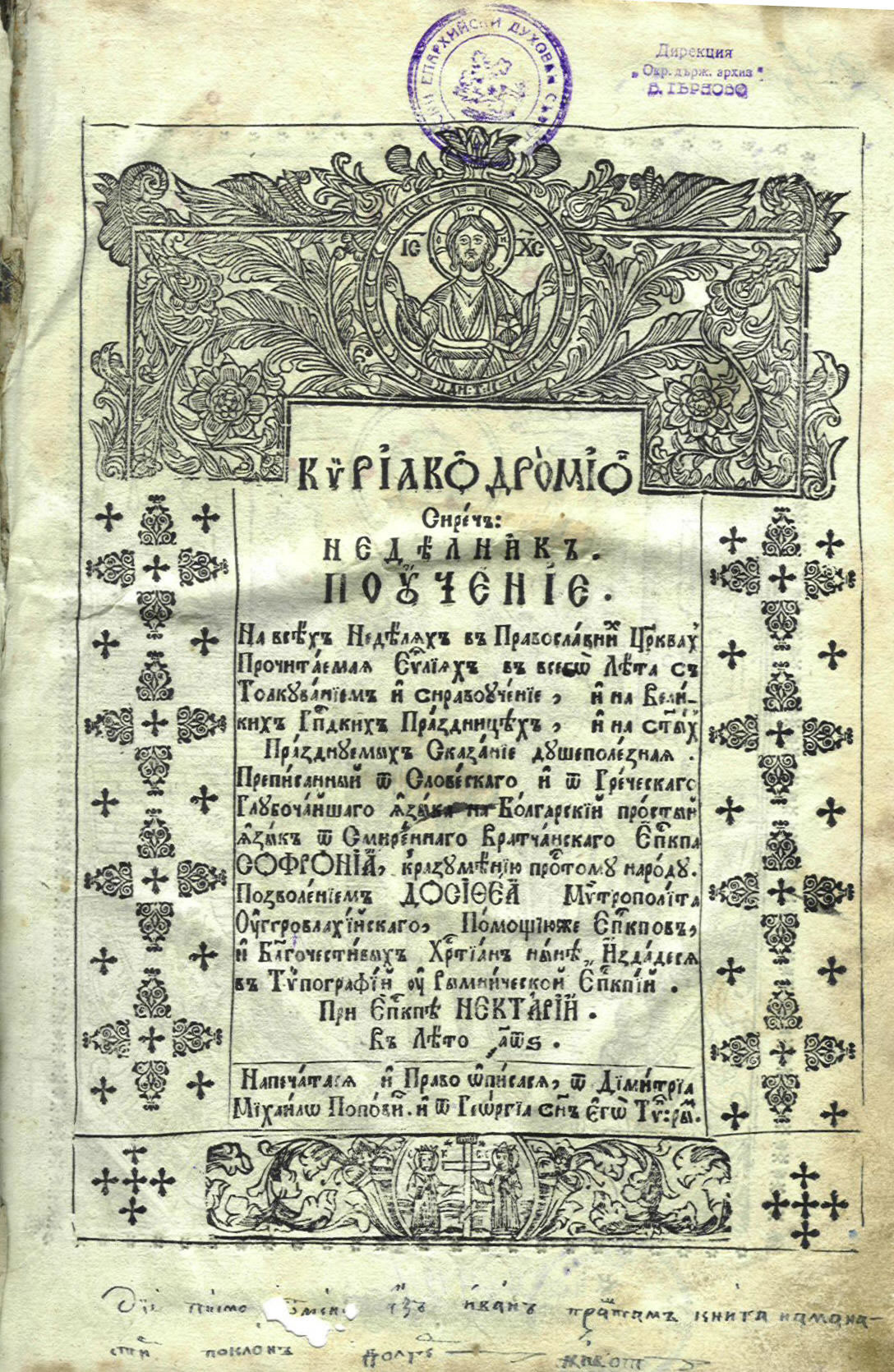 Please click the picture to look inside the book.
  Description
The Sunday Book is the first book published in modern Bulgarian. It was written by Bishop Sofronii, an associate of Paisii Hilandarski, the founder of the Bulgarian Renaissance movement. It consists of 96 sermons, and was intended to serve as a religious guide at a time when the Bible had not yet been translated from Old Bulgarian.
A Traveller in the Woods or Forest Wanderer
  Description
Between 1854 and 1860, Georgi Sava Rakovski spent his time writing, publishing reviews, and avoiding arrest.
He penned his best-known work, Gorski Patnik (translated as A Traveller in the Woods or Forest Wanderer), while hiding from Turkish authorities near Kotel during the Crimean War (1853–56). Considered one of the first Bulgarian literary poems, it was not actually published until 1857.[2] The published version differed from the first version, in that it had a clearer plot and improved style.
The plot concerns a Bulgarian man who recruits a rebel group to mutiny against the Turks. Rakosvki's aim in writing this was to awaken the people's spirit to fight for freedom and to take revenge on the Turks for their cruelty. The novel opens with the main character admiring the beauty of nature on the Bosporus. A preoccupation with national problems and lack of freedom clouds his mind, and he encourages others to join him in a revolt. As the insurgents travel toward Bulgaria, the reader takes in their courage and trials of the journey. The work is said to "unite all the ideology, hopes and beliefs" of the Bulgarian people in their brave fight against the yoke.
Rakovski left Gorski Patnik incomplete. Written in archaic language, it was difficult to read, but still had a great influence in society.
Source: Wikipedia
Other sources
World Digital Library: Bulgaria. Books
Българският литературен модернизъм: Дигитално хранилище
National Library St. St. Cyril and Methodius: Digital library
Бусилин, Георги Попилиев: Български буквар. Москва, 1844.
Христофор Жефарович: Стематография. Виена, 1741.
Jakov Kraikov: Chasoslovets
National Library St. St. Cyril and Methodius: The Bulgarian 14th Century
Иван Фёдоров: Апостол (1564)
NALIS Repository: Cyrillic Books XVI – XIX
Ст. Кутинчев: Печатарството въ България до Освобождението: Приносъ къмъ културната история на България. С., 1920.
NALIS Repository: Bulgarian books (1800-1899).
Knigopis: Bulgarian revival book history
Knigopis: Българска възрожденска книжнина 1801-1878