Font Sampler
Разъяренный чтец эгоистично бьёт пятью жердями шустрого фехтовальщика.
Огньове изгаряха с блуждаещи пламъци любовта човешка на Орфей.
Copy and past the following text in the Font Sampler to test the font
CODEX ZOGRAPHENSIS
ⰅⰂⰀⰌⰅⰎⰋⰅ ⰑⰕⰟ ⰊⰑⰀ̆ⰐⰀ (EVANGELIE OT IOANA)
Ⰺⱄⰽⱁⱀⰻ · ⰱⱑⰰ̆ⱎⰵ ⱄⰾⱁⰲⱁ · ⰺ҅ ⱄⰾⱁⰲⱁ ⰱⱑⰰ̆ⱎⰵ ⱁⱅⱏ ⰱ҃ⰰ · ⰺ҅ ⰱ҃ⱏ ⰱⱑⰰ̆ⱎⰵ ⱄⰾⱁⰲⱁ · ⱄⰵ ⰱⱑ ⰺ҅ⱄⰽⱁⱀⰻ ⱁ̆ⱅⱏ ⰱ҃ⰰ · ⰲⱐⱄⱑ ⱅⱑⰿⱐ ⰱⱏⰻⱎⱔ · ⰺ҅ ⰱⰵⰶ ⱀ̑ⰵⰳⱁ ⱀⰻⱍⱐⱅⱁⰶⰵ ⱀⰵ ⰱⱏⰻⱄⱅⱏ · ⰵⰶⰵ ⰱⱏⰻⱄⱅⱏ · ⰲⱏ ⱅⱁⰿⱐ ⰶⰻⰲⱁⱅⱏ ⰱⱑ · ⰺ҅ ⰶⰻⰲⱁⱅⱏ ⰱⱑ ⱄⰲⱑⱅⱏ ⱍ҃ⰽⱁⰿⱏ · ⰺ҅ ⱄⰲⱑⱅⱏ ⰲⱏ ⱅⱏⰿⱑ ⱄⰲⱐⱅⰻⱅⱏ ⱄⱔ · ⰺ҅ ⱅⱏⰿⰰ ⰵⰳⱁ ⱀⰵ ⱁⰱⱐⱗⱅⱏ · Ⰱⱏⰻⱄⱅⱏ ⱍ҃ⰽⱏ · ⱂⱁⱄⱏⰾⰰⱀⱏ ⱁⱅⱏ ⰱ҃ⰰ · ⰺ҅ⰿⱔ ⰵⰿⱆ ⰺ҅ⱁⰰⱀⱏ · ⱄⱐ ⱂⱃⰻⰴⰵ ⰲⱏ ⱄⱏⰲⱑⰴⱑⱅⰵⰾ̑ⱐⱄⱅⰲⱁ · ⰴⰰ ⱄⱏⰲⱑⰴⱑⱅⰵⰾ̑ⱐⱄⱅⰲⱆⰵⱅⱏ ⱁ ⱄⰲⱑⱅⱑ · ⰴⰰ ⰲⱐⱄⰻ ⰲⱑⱃⱘ ⰺ҅ⰿⱘⱅⱏ ⰺ҅ⰿⱐ · ⱀⰵ ⰱⱑ ⱅⱏ ⱄⰲⱑⱅⱏ · ⱀⱏ ⰴⰰ ⱄⱏⰲⱑⰴⱑⱅⰵⰾ̑ⱐⱄⱅⰲⱆⰵⱅⱏ ⱁ ⱄⰲⱑⱅⱑ · Ⰱⱑ ⱄⰲⱑⱅⱏ ⰺ҅ⱄⱅⰻⱀⱏⱀⱏⰻ · ⰺ҅ⰶⰵ ⱂⱃⱁⱄⰲⱑⱎⱅⰰⰵⱅⱏ ⰲⱄⱑⰽⱁⰳⱁ ⱍ҃ⰽⰰ · ⰳⱃⱔⰴⱘⱎⱅⰰⰵⰳⱁ ⰲⱏ ⰿⰻⱃⱏ · ⰲⱏ ⰿⰻⱃⱑ ⰱⱑ · ⰺ҅ ⰿⰻⱃⱏ ⱅⱑⰿⱐ ⰱⱏⰻⱄ · ⰺ҅ ⰿⰻⱃⱏ ⰵⰳⱁ ⱀⰵ ⱂⱁⰸⱀⰰ · Ⰲⱏ ⱄⰲⱁⱗ ⱂⱃⰻⰴⰵ · ⰺ҅ ⱄⰲⱁⰻ ⰵⰳⱁ ⱀⰵ ⱂ[ⱃⰻⱔ]ⱎⱔ · ⰵⰾⰻⰽⱁ ⰶⰵ ⰺⱈⱏ ⱂⱃⰻⱗⱅⱏ %ⰹ · ⰴⰰⱄⱅⱏ ⰺ҅ⰿⱏ ⰲⰾⰰⱄⱅⱐ ⱍⱔⰴⱁⰿⱏ ⰱ҃ⰶⰻⰵⰿⱏ ⰱⱏⰻⱅⰻ · ⰲⱑⱃⱆⱙⱎⱅⰻⰿⱏ ⰲⱏ ⰺⰿⱔ ⰵⰳⱁ · ⰺ҅ⰶⰵ ⱀⰵ ⱁⱅⱏ ⰽⱃⱏⰲⰻⰹ · ⱀⰻ ⱁⱅⱏ ⱂⱁⱈⱁⱅⰻ ⱂⰾⱏⱅⱐⱄⰽⱏⰻ · ⱀⰻ ⱁⱅⱏ ⱂⱁⱈⱁⱅⰻ ⰿⱘⰶⱐⱄⰽⱏⰻ · ⱀⱏ ⱁⱅⱏ ⰱ҃ⰰ ⱃⱁⰴⰻⱎⱔ ⱄⱔ · Ⰺ҅ ⱄⰾⱁⰲⱁ ⱂⰾⱏⱅⱐ ⰱⱏⰻⱄⱅⱏ · ⰺ҅ ⰲⱐⱄⰵⰾⰻ ⱄⱔ ⰲⱏ ⱀⱏⰻ · ⰺ҅ ⰲⰻⰴⱑⱈⱁⰿⱏ ⱄⰾⰰⰲⱘ ⰵⰳⱁ · ⱄⰾⰰⰲⱘ ⱑⰽⱁ ⰺⱀⱁⱍⱔⰴⰰⰵⰳⱁ ⱁⱅⱏ ⱁ҃ⱌⰰ · ⰺ҅ⱄⱂⰾⱏⱀⱐ ⰱⰾⰰⰳⱁⰴⱑⱅⰻ ⰺ҅ⱄⱅⰻⱀⱏⰻ · Ⰺ҅ⱁⰰⱀⱏ ⱄⱏⰲⱑⰴⱑⱅⰵⰾⱐⱄⱅⰲⱆⰵⱅⱏ ⱁ ⱀ̑ⰵⰿⱐ · ⰺ҅ ⰲⱏⰸⱏⰲⰰ ⰳ҃ⰾⱔ · ⱄⱐ ⰱⱑ ⰵⰳⱁⰶⰵ ⱃⱑⱈⱏ · ⰳⱃⱔⰴⱏⰻ ⱂⱁ ⰿⱀⱑ ⱂⱃⱑⰴⱏ ⰿⱏⱀⱁⱙ ⰱⱏⰻⱄⱅⱏ · ⱑⰽⱁ ⱂⱃⱏⰲⱑⰹ ⰿⰵⱀⰵ ⰱⱑ · ⰺ҅ ⱁⱅⱏ ⰺ҅ⱄⱂⰾⱏⱀ̑ⰵⱀⰻⱑ ⰵⰳⱁ ⰿⱏⰻ ⰲⱐⱄⰻ ⱂⱃⰻⱗⱈⱁⰿⱏ · Ⰱⰾⰰⰳⱁⰴⱑ̆ⱅⱐ ⰲⱏⰸ ⰱⰾⰰⰳⱁⰴⱑⱅⱐ · ⱑⰽⱁ ⰸⰰⰽⱁⱀⱏ ⰿⱁⱄⱑⱁⰿⱐ ⰴⰰⱀⱏ ⰱⱏⰻⱄ · ⰱⰾⰰⰳⱁⰴⱑⱅⱐ ⰺ҅ ⰻⱄⱅⰻⱀⰰ ⰺ҃ⱄ ⱈ҃ⰿⱐ ⰱⱏⰻⱄⱅⱏ · ⰽ҃ⱁⱌ ·
ЖИТІЀ СТ҃А́ГѠ Є҆Ѵⷢ҇ЛІ́СТА МАТѲЕ́А,
ѿ сѡфро́нїа.
Матѳе́й, и҆́же и҆ леѵі́й, а҆пⷭ҇лъ ѿ мытаре́й, во і҆ꙋде́и пе́рвый вѣ́ровавшихъ ра́ди ѿ ѡ҆брѣ́занїѧ, є҆ѵⷢ҇лїе хрⷭ҇то́во писмены̀ и҆ глаго́лы є҆вре́йскими сочинѝ, невѣ́домомꙋ по си́хъ во є҆́ллинское сїѐ прело́жшꙋ: є҆вре́йское же да́же до дне́сь є҆́сть въ книгохрани́тельницѣ кесарі́йской, ѿ памфі́ла мꙋ́ченика тща́тельнѡ ᲂу҆стро́ившейсѧ. Мнѣ́ же ѿ назѡре́ѡвъ, въ вері́и сѷрі́йстѣй сїѐ ᲂу҆потреби́вшихъ, во́лѧ подаде́сѧ сегѡ̀ преписа́нїѧ: и҆́мже є҆́сть и҆звѣ́стно вѣ́дати, ꙗ҆́кѡ и҆дѣ́же бы є҆ѵⷢ҇лі́стъ и҆лѝ ѿ лица̀ своегѡ̀, и҆лѝ ѿ лица̀ гдⷭ҇а на́шегѡ і҆и҃са хрⷭ҇та̀ и҆ сп҃са, свидѣ́тєльства ᲂу҆потреби́лъ дре́внихъ писа́нїй, не послѣ́довати во́ли седми́десѧтъ толко́вникѡвъ, но є҆вре́йской: ѿ ни́хже два̀ сꙋ́ть ѻ҆́на: И҆з̾ є҆гѵ́пта воззва́хъ сн҃а моего̀: и҆, Ꙗ҆́кѡ назѡре́й нарече́тсѧ. (л. а҃ ѡ҆б.)
Menaion Unicode is intended for representing text from Ustav-era manuscripts (either Cyrillic or Glagolitic), primarily in an academic setting. In addition to Cyrillic and Glagolitic characters, it also contains characters of early Slavic ecphonetic notation. Menaion Unicode is based on the Menaion font designed by Victor A. Baranov at the Manuscript Project and reencoded for Unicode by Aleksandr Andreev.
The current version of Menaion Unicode is 2.0. Note: a bug in some implementations of OpenType rendering prevents the correct positioning of combining letters in Glagolitic. If you need support for combining Glagolitic characters, we suggest using the SIL Graphite version of the font.
The current version of Menaion Unicode is 2.0.
Design, Publisher, Copyright, License
Design: Aleksandr Andreev
Publisher: Aleksandr Andreev
Copyright, 2013-2019: Aleksandr Andreev
License: SIL OPEN FONT LICENSE
Aleksandr Andreev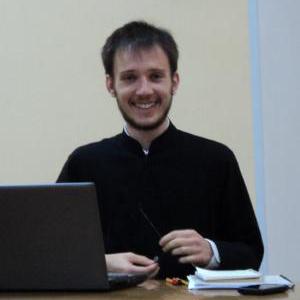 Assistant Professor at St. Petersburg Theological Academy.
License: Free for NON-COMMERCIAL USE
Free License
Download v.2.100: Menaion Unicode | Google Drive
  Vector reconstruction of Glagolitic Letters, Cyrillic Letters and Ornaments