Font Sampler
Разъяренный чтец эгоистично бьёт пятью жердями шустрого фехтовальщика.
Огньове изгаряха с блуждаещи пламъци любовта човешка на Орфей.
Фијуче ветар у шибљу, леди пасаже и куће иза њих и гунђа у оџацима.
Copy and past the following text in the Font Sampler to test the font
ЖИТІЀ СТ҃А́ГѠ Є҆Ѵⷢ҇ЛІ́СТА МАТѲЕ́А,
ѿ сѡфро́нїа.
Матѳе́й, и҆́же и҆ леѵі́й, а҆пⷭ҇лъ ѿ мытаре́й, во і҆ꙋде́и пе́рвый вѣ́ровавшихъ ра́ди ѿ ѡ҆брѣ́занїѧ, є҆ѵⷢ҇лїе хрⷭ҇то́во писмены̀ и҆ глаго́лы є҆вре́йскими сочинѝ, невѣ́домомꙋ по си́хъ во є҆́ллинское сїѐ прело́жшꙋ: є҆вре́йское же да́же до дне́сь є҆́сть въ книгохрани́тельницѣ кесарі́йской, ѿ памфі́ла мꙋ́ченика тща́тельнѡ ᲂу҆стро́ившейсѧ. Мнѣ́ же ѿ назѡре́ѡвъ, въ вері́и сѷрі́йстѣй сїѐ ᲂу҆потреби́вшихъ, во́лѧ подаде́сѧ сегѡ̀ преписа́нїѧ: и҆́мже є҆́сть и҆звѣ́стно вѣ́дати, ꙗ҆́кѡ и҆дѣ́же бы є҆ѵⷢ҇лі́стъ и҆лѝ ѿ лица̀ своегѡ̀, и҆лѝ ѿ лица̀ гдⷭ҇а на́шегѡ і҆и҃са хрⷭ҇та̀ и҆ сп҃са, свидѣ́тєльства ᲂу҆потреби́лъ дре́внихъ писа́нїй, не послѣ́довати во́ли седми́десѧтъ толко́вникѡвъ, но є҆вре́йской: ѿ ни́хже два̀ сꙋ́ть ѻ҆́на: И҆з̾ є҆гѵ́пта воззва́хъ сн҃а моего̀: и҆, Ꙗ҆́кѡ назѡре́й нарече́тсѧ. (л. а҃ ѡ҆б.)
Fedorovsk Unicode is designed to mimick the typeface used by Ivan Fedorov, who produced some of the first printed books in Moscow. It is intended primarily for reproducing publications from that era, either in an academic setting, or as modern Old Rite liturgical texts. The original Fedorovsk typeface was designed by Nikita Simmons; the font was then reencoded for Unicode by Aleksandr Andreev.
The current version of Fedorovsk Unicode is Version 3.0 (public release)
Design, Publisher, Copyright, License
Design: Aleksandr Andreev and Nikita Simmons
License: SIL OPEN FONT LICENSE
Aleksandr Andreev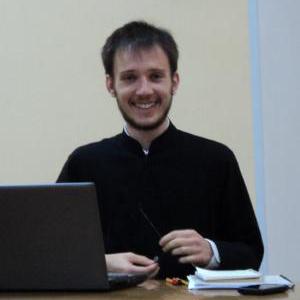 Assistant Professor at St. Petersburg Theological Academy.
Free License
Download: Fedorovsk Unicode | Google Drive
Get permission to open a file on a Google Drive
• Open the file.
• On the "You need permission" page, click "Request access".
• The owner of the file will get an email asking for approval.
• After they approve your request, you'll get an email.
  Vector reconstruction of Glagolitic Letters, Cyrillic Letters and Ornaments