Jordan Jelev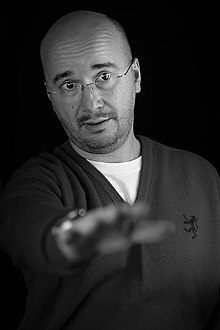 Jordan Jelev is born on 14 June 1975 in Varna. His affiliation to visual arts dates back to the age of 12 when he created his first hand-made signs embroidered on jeans. Later at the end of his study at Varna High-school of Math, he discovered his love for calligraphy and custom lettering which influenced significantly his work as graphic designer.
In 1996 he started his education at Varna University of Economics. Right at the same time he began working as graphic designer in Zograph Studio. In 1998 he moved to Factor R studio in Varna where he started his career as dedicated wine label designer. Since that time he had successfully designed a considerable amount of premium brands – most of them later recognized as some of the icons of Bulgarian Wine and Spirits industry.
In 2003 he started making professional photography for wine and spirits industry. In 2005 he did his first solo exhibition with macro and abstract photography in Varna.
Since 2010 he started working for different wineries in Barossa Valley – Australia, Napa Valley – USA, Fair Haven, NY – USA, Languedoc – France, FYRO Macedonia, Lombardy – Italy, Rheinhessen – Germany etc. His work was featured by some of the world's famous design blogs like Packaging of the Word, Lovelypackage, The Dieline, World Packaging Design etc.
As Author of Bulgarian wine label designs Jordan Jelev received "the Labelmaker" nickname which eventually turned into his own signature and personal brand.