Description
Bolyar Pro type family is the ancestor of our successful font Bolyar. We decided to develop it to a new higher level – making it more sophisticated, detailed and useful at the same time. The new improved Bolyar is able to satisfy every typographic taste and meet the ever growing design requirements for high quality typefaces. If you are addicted to classic vintage style, then you could easily use Bolyar Pro for almost anything – from letterhead, logos and catchy headlines to elegant packaging, book covers and wine labels. Alternates, Swashes and Ligatures will help you customize almost every single letter and fit perfectly to your artwork.
Bolyar Pro type family is showing an abundance of many new useful features and options like:
Five weights each sold as separate font
Over 1200 glyphs per weight
Full multilingual support of all European languages as well Greek and Cyrillic
Brand new Alternates and Swashes fully supported in all languages (even with accented characters)
Many useful ligatures
Full Open Type and True Type support for Mac and Win Platforms
New Bolyar Ornaments – a new complimentary font exclusively designed to fit the new Bolyar Pro, containig decorative shields, frames, ornaments and borders.
Bolyar Pro font family is great for any kind of labels – in this link you could see some amazing examples how to use it alone or in combination with our Bolyar Ornate Pro font family.
Design, Publisher, Copyright, License
Design: Jordan Jelev, Vassil Kateliev
Publisher: The Fontmaker
Copyright 2013 by Jordan Jelev, Vassil Kateliev. All rights reserved.
Jordan Jelev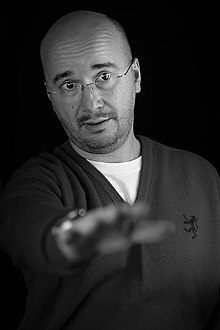 Jordan Jelev is born on 14 June 1975 in Varna. His affiliation to visual arts dates back to the age of 12 when he created his first hand-made signs embroidered on jeans. Later at the end of his study at Varna High-school of Math, he discovered his love for calligraphy and custom lettering which influenced significantly his work as graphic designer.
In 1996 he started his education at Varna University of Economics. Right at the same time he began working as graphic designer in Zograph Studio. In 1998 he moved to Factor R studio in Varna where he started his career as dedicated wine label designer. Since that time he had successfully designed a considerable amount of premium brands – most of them later recognized as some of the icons of Bulgarian Wine and Spirits industry.
In 2003 he started making professional photography for wine and spirits industry. In 2005 he did his first solo exhibition with macro and abstract photography in Varna.
Since 2010 he started working for different wineries in Barossa Valley – Australia, Napa Valley – USA, Fair Haven, NY – USA, Languedoc – France, FYRO Macedonia, Lombardy – Italy, Rheinhessen – Germany etc. His work was featured by some of the world's famous design blogs like Packaging of the Word, Lovelypackage, The Dieline, World Packaging Design etc.
As Author of Bulgarian wine label designs Jordan Jelev received "the Labelmaker" nickname which eventually turned into his own signature and personal brand.
Vassil Kateliev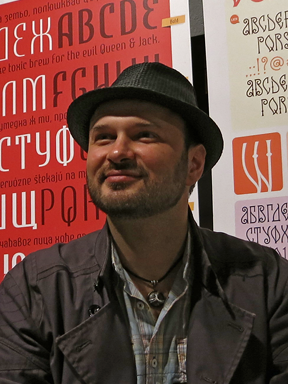 Vassil Kateliev was born 1980 in Varna, Bulgaria. In 2005 he took a major degree in Communication Engineering and Technologies at Technical University of Varna. Several years later after a very successful career as graphic designer, he decided to go back studying and in 2012 he took a second master degree in Industrial design at Technical University of Varna, where he currently teaches and writes his doctoral thesis.
Working restlessly in the field of Cyrillic type design, he often participates in various type and graphic design exhibitions home and abroad. In 2013 he was invited to display his works in New Bulgarian Typography exhibition, part of Sofia Design Week. In 2014 his type family Basil was awarded Special Mention in Cyrillic category at the 7th International Type Design Competition for non-Latin typefaces – Granshan 2014.
Since 2011 Kateliev is running small but promising independent type design studio called Karandash. He is also working in together with the renowned Bulgarian calligrapher and graphic designer Jordan Jelev in their collaborative type foundry – The FontMaker.

Web:

Typefaces:

FM Bolyar Pro

,

FM Bolyar Sans Pro

,

FM Bolyar Ornate Pro

,

FM Bolyar TypeCraft

,

FM Ephire

,

Versatile Bold

,

Ka Callista

,

Kometa

,

Basil

,

Sybilla Multiverse

,

Sybilla Pro

,

Sybilla

,

Gaytan Sans & Serif

,

Estimo

,

Achates

More…

KATELIEV
Commercial License
Buy at: Fontspring