Description
Description
Gaytan (Bulgarian for braid) is a fresh new insight on archaic letterforms. A family of two unicase typefaces – a modernlooking sans and more classic looking serif, equipped with many alternates, sothey can suit any typographic taste.
Gaytan's unique design was inspired by Old Church Slavonic Cyrillic, Bulgarian Ustav andthe Russian Vyaz stiles, as well as the avant-garde works of Bulgarian typedesigners in late 1970s.
Design, Publisher, Copyright, License
Design: Vassil Kateliev
Publisher: Karandash
Copyright 2012 by Vassil Kateliev, Karandash. All rights reserved.
Vassil Kateliev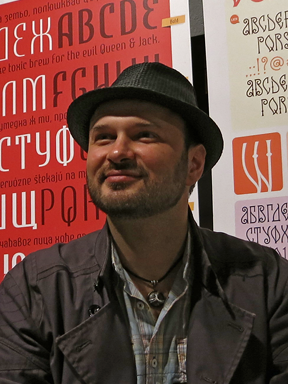 Vassil Kateliev was born 1980 in Varna, Bulgaria. In 2005 he took a major degree in Communication Engineering and Technologies at Technical University of Varna. Several years later after a very successful career as graphic designer, he decided to go back studying and in 2012 he took a second master degree in Industrial design at Technical University of Varna, where he currently teaches and writes his doctoral thesis.
Working restlessly in the field of Cyrillic type design, he often participates in various type and graphic design exhibitions home and abroad. In 2013 he was invited to display his works in New Bulgarian Typography exhibition, part of Sofia Design Week. In 2014 his type family Basil was awarded Special Mention in Cyrillic category at the 7th International Type Design Competition for non-Latin typefaces – Granshan 2014.
Since 2011 Kateliev is running small but promising independent type design studio called Karandash. He is also working in together with the renowned Bulgarian calligrapher and graphic designer Jordan Jelev in their collaborative type foundry – The FontMaker.

Web:

Typefaces:

FM Bolyar Pro

,

FM Bolyar Sans Pro

,

FM Bolyar Ornate Pro

,

FM Bolyar TypeCraft

,

FM Ephire

,

Versatile Bold

,

Ka Callista

,

Kometa

,

Basil

,

Sybilla Multiverse

,

Sybilla Pro

,

Sybilla

,

Gaytan Sans & Serif

,

Estimo

,

Achates

More…

KATELIEV
Commercial License
Buy at: Fontspring