Description
Versatile Bold is the first entry into the Versatile type family of weights & italics from Borges Lettering. While other sans-serif fonts tend to be rigid and cold, Versatile stands out with it's warm and natural feel. It's generous x-height aids in its legibility and function, and the forms are modern yet classic allowing this font to live up to its name as a truly versatile workhorse for your next design or layout.
Versatile contains 3 different styles: Bold, Hatch and Rust (sold separately). Each style contains one body and six display sub-families which gives you the ability to stack seven layers to create interesting and eye-catching designs that will make your customers take notice. Playing with the different layers creates a vast array of design options.
Versatile Bold is not just for the Graphic Designer. It's well suited for the Sign Maker, Cricut and Silhouette users, and anyone else who uses a vinyl plotter. It weeds beautifully in cut vinyl. Its different layers allow the user to stack multi-colored vinyl to create one a kind signs and displays.
Versatile Bold is ideally suited for advertising and packaging, logo, branding and creative industries, poster and billboards, signage as well as web and screen design.
What's included:
• Seven Fonts included in each style pack containing: Regular, Cast, Shadow, Highlight Shadow, Out line, Inside Shadow, and Lines.
• 1,462 Glyphs (Characters) in each font for a total of 10,234 Glyphs per style pack.
• Over 200 Languages supported including Cyrillic, Bulgarian Cyrillic and Greek.
• A massive library of Latin, Extended Latin and Cyrillic Alternates including their Diacritic and Small Cap counterparts.
• Superscripts, Subscripts, Numerators, Denominators, and Scientific Inferiors.
• Small Caps in Latin, Extended Latin and Cyrillic include Numbers, Punctuation,
• Diacritics and Alternates.
• Extended currency symbols including Bitcoin.
• Fun assortment of speech bubbles.
• Unlimited fractions.
• All 1,462 Glyphs have their display equivalents.
• PUA Encoded
Versatile makes Typography fun!
A special thank you to the following people who have contributed their time and talents in making Versatile: Vassil Kateliev, Igino Marini, Jordan Jelev, Mike Adkins, and Andreas Stötzner.
Design, Publisher, Copyright, License
Design: Charles Borges de Oliveira, Vassil Kateliev
Publisher: Borges Lettering
Copyright 2017 by Borges Lettering. All rights reserved.
Charles Borges de Oliveira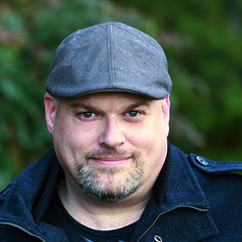 The CBdO Fonts Foundry is headed by Charles Borges de Oliveira (b. New Orleans, 1971) and is located in Arlington, WA. Borges's typefaces are mostly scripts, signage typefaces and comic book style typefaces. many of them were first done at or are copublished with Letterhead Fonts.
Vassil Kateliev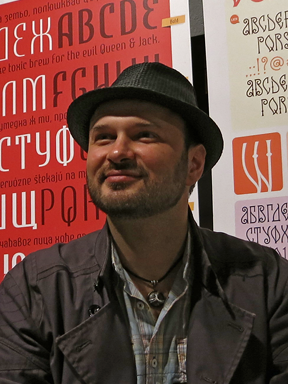 Vassil Kateliev was born 1980 in Varna, Bulgaria. In 2005 he took a major degree in Communication Engineering and Technologies at Technical University of Varna. Several years later after a very successful career as graphic designer, he decided to go back studying and in 2012 he took a second master degree in Industrial design at Technical University of Varna, where he currently teaches and writes his doctoral thesis.
Working restlessly in the field of Cyrillic type design, he often participates in various type and graphic design exhibitions home and abroad. In 2013 he was invited to display his works in New Bulgarian Typography exhibition, part of Sofia Design Week. In 2014 his type family Basil was awarded Special Mention in Cyrillic category at the 7th International Type Design Competition for non-Latin typefaces – Granshan 2014.
Since 2011 Kateliev is running small but promising independent type design studio called Karandash. He is also working in together with the renowned Bulgarian calligrapher and graphic designer Jordan Jelev in their collaborative type foundry – The FontMaker.

Web:

Typefaces:

FM Bolyar Pro

,

FM Bolyar Sans Pro

,

FM Bolyar Ornate Pro

,

FM Bolyar TypeCraft

,

FM Ephire

,

Versatile Bold

,

Ka Callista

,

Kometa

,

Basil

,

Sybilla Multiverse

,

Sybilla Pro

,

Sybilla

,

Gaytan Sans & Serif

,

Estimo

,

Achates

More…

KATELIEV
Commercial License
Buy at: Fontspring