Fontself Maker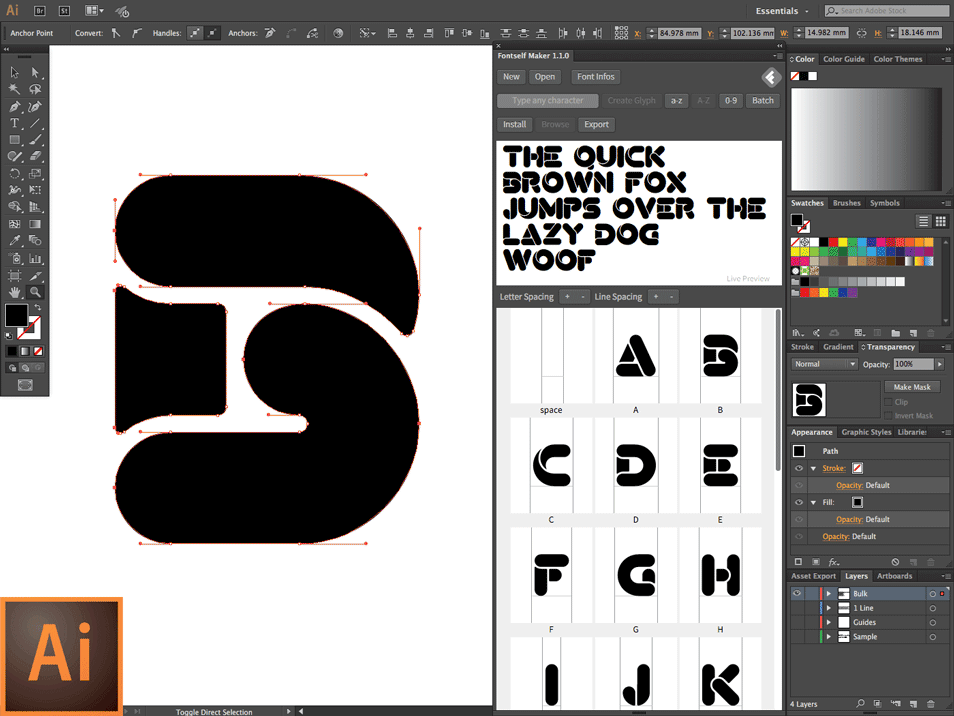 Create fonts, the easy way – in Photoshop & Illustrator CC. Fontself Maker is an add-on for Photoshop & Illustrator CC that brings you font creation superpowers. Enjoy a new skill in your next graphic / web / mobile / print / icon / UI / UX projects!
Try at Fontself Maker
BitFontMaker
BitFontMaker2 is a browser-based pixel-font editor that you can use to edit and create bitmap fonts. You can download your fonts as TrueTypeFont, you can also upload your fonts to their gallery.
Try at BitFontMaker
gbdfed Bitmap Font Editor
gbdfed lets you interactively create new bitmap font files or modify existing ones. It allows editing multiple fonts and multiple glyphs, it allows cut and paste operations between fonts and glyphs and editing font properties. The editor works natively with BDF fonts.
gbdfed can import:
Metafont PK/GF fonts.
Han Bitmap Font format (HBF) fonts.
Linux console (PSF, CP, and EGA/VGA) fonts.
Sun VF fonts.
OpenType (OTF & TTF) fonts (using Freetype 2).
A font from the X server.
gbdfed can export:
PSF2 Linux console fonts.
HEX fonts (see online help).
gbdfed also supports creating and editing 2, 4, and 8 bits-per-pixel gray scale strikes (bitmap typefaces) that can be embedded in OTF fonts (see EBLC/EBDT/EBSC tables in OpenType spec).
gbdfed requires GTK+ 2.6 or later to compile and run. This program has been built and tested briefly on Mac OS X 10.4 and 10.5. It does not yet compile and run properly on Windows.
Download at gbdfed Bitmap Font Editor
Raster Font Editor
Raster Font Editor is am easy-to-use font editor for the creation of bitmap fonts. It supports several file formats and has a very simple yet fully customisable user interface.
The application can open font resource files (*.fnt) created by other tools such as Borland's Resource Workshop. It can import DOS 8×16 fonts, fonts from BMP images and can convert TTF fonts to raster fonts.
You can save your raster fonts as Font Resource (*.fnt), Resource Script (*.rc), Text (*.txt) and Windows Bitmap (*.bmp). Saving as Text file is useful for debugging purposes and creating text representation of characters
This is a beta version and does not contain any help. It is fully working though and we trust you can use it and start creating fonts immediately.
Download at CyLog Software
DoubleType
DoubleType is a type designer (font editor) that builds TrueType font files. Thanks to Java, it runs on Windows, Linux, & Mac. Glyphs are stored in XML based file to aid teamwork. Efficient glyph design by combining existing glyphs and modules.
Download at Sourceforge
Sib Font Editor
Sib Font Editor supports .fnt and .fon bitmap fonts. It can save a font of one type to another and also can add a font to one more .fon file. With the help of export and import features, you can insert bitmap images as symbols and save a given symbol into a bitmap file. The tool can quickly change font properties, including name, copyright, symbol width, height, zero level, index of the first and the last symbol. You can also view the font's header at any time.
Download at Sibcode
Fony
Fony is a bitmap font editor, originally created for editing Windows bitmap fonts in FON/FNT format.
Fony runs on Windows 2000, XP, Vista, 7 and newer. To run Fony on Windows 98/ME you may be able to use KernelEx; for Linux use Wine.
Download at Fony
TTFEdit
TrueType fonts editor. Allows for editing vector-based glyphs
Download at Sourceforge
fontTools
fontTools is a library for manipulating fonts, written in Python. The project includes the TTX tool, that can convert TrueType and OpenType fonts to and from an XML text format, which is also called TTX. It supports TrueType, OpenType, AFM and to an extent Type 1 and some Mac-specific formats. The project has a BSD-style open-source licence. Among other things this means you can use it free of charge.
Download at Github
Adobe Font Development Kit for OpenType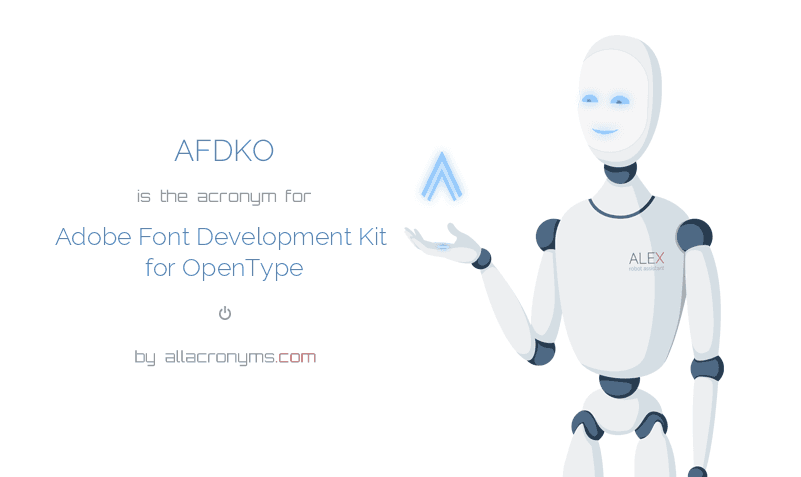 The goal of the Adobe Font Development Kit for OpenType package is to share the tools used by Adobe font developers for wrapping up PostScript fonts as OpenType/CFF font files, and adding OpenType layout features. These tools are used for in-house development of new Adobe OpenType fonts. We know that they work for the fonts Adobe makes, but have tested only part of what it is possible to express with OpenType. Note that although the FDK directory tree contains a number of Python scripts, none of them can be used by double-clicking on them; they can only be successfully called as commands from a command-line window (the "Terminal" program on Mac, the "cmd" or "DOS" program on Windows).
Note also that the AFDKO is for adding OpenType data to existing fully-designed PostScript and Truetype fonts, and for proofing them. It does not offer tools for designing or editing glyphs. The makeotf proofing tools work with TrueType-based source fonts, but the checkOutlines and autohint tools work only with PostScript source fonts or OpenType fonts with Postscript outlines.
Download at Adobe
OverView AFP Font and Image Editor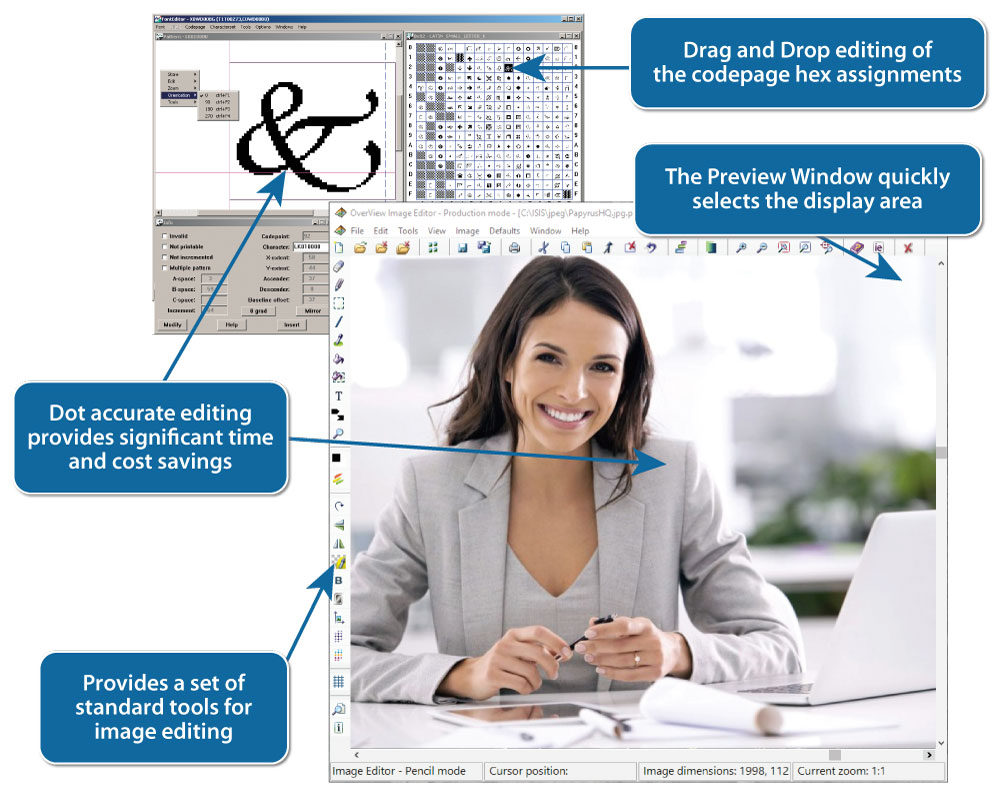 Font Editing Functions
Load and edit or create AFPDS coded fonts, codepages and charactersets on a single display.
Edit character bitmap patterns.
Cut, copy, paste, merge and delete functions for the character bitmap via the clipboard.
Copy bitmaps from applications.
Create shaded and inverted character sets.
Convert charactersets to/from fixed pitch to proportional spacing.
Cut, copy, paste, merge and delete groups of characters between character-sets.
Drag and drop codepage editing.
Convert bounded/unbounded font formats.
Convert image to bounded or unbounded font format characterset.
DBCS font support for Chinese and Japanese.
Try at OverView AFP Font and Image Editor
CorelDRAW
Font Creation
Inkscape
Inkscape typography extensions
Private Character Editor in Windows
Windows Private Character Editor works on all Windows, starting with Windows XP.
Typetester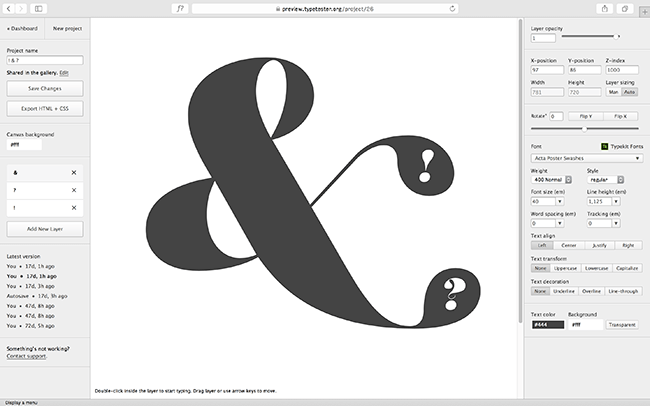 The new Typetester is a WYSIWYG web typography editor. Create, export and share unlimited projects.
Buy at Typetester
Advanced, additional tools
Collections
Tal Leming | Typesupply. See also: Type Supply Tool Store
Frederik Berlaen | TypeMyType

Uncategorized tools
Fontastic – a Processing library to create font files
MetricsMachine
iKern
Prepolator
Superpolator
Simplepolator
Rounding UFO
UFO stretch
GlyphProofer
FontPrep
Dunwich Type's Python scripts
SVG Font Converter
Mac OS X 10.10: Fira System Font Replacement

FontLab extensions and scripts
Python scripts for FontLab
Impallari Fontlab Macros
Font-related tools such as FontLab Studio Python scripts, FontLab .enc files for character sets, etc.
FontRemix
Font Inspector
MMK FL kerning exchange
Autopsy
FontLab Scripts
PixelBrush
Impallari Fontlab Encodings
FontGenerator
Freemix Tools for FontLab
Huertatipografica FontLab scripts
Tamil Encoding for FontLab
FontLab macros
Fontstep
Fontlab Macros
FontLab scripts
BatchFontInfo
Runinfls
Typesupply | FontLab scripts | ScriptBrowser | UFOCentral
Ben Kiel's Python scripts
KLTF's Python scripts

Glyphs extensions and scripts
Schriftgestalt | Glyphs Scripts
Space Bar
Speed Punk
Autopsy
FontRemix
Python scripts for the Glyphs font editor

Robofont extensions and scripts
Robofont Extensions
RoboFont Mechanic
Typefacet-robofont
Tom Conroy's Python scripts
Timo Klaavo's Scaling Edit Tool at GitHub link.
Interpolated Nudge
Speed Punk
KLTF GlyphTweaker & Transformer for RF
Loic Sander Robofont Scripts
House Industries's Python scripts
Dan Milne's Python scripts
Typedev's Python scripts
Glyph Nanny
Ressources
Visual OpenType Layout Tool
Unified Font Object, UFO
Font to XML
ttfautohint + FreeType auto-hinter
Apple Font Tools 3.1
Microsoft Font Validator
Google sfnty, a Library for Using, Editing, and Creating SFNT-based Fonts
Webfontmaker
Adhesiontext
Text Generator
Context of Diacritics
Typable, a clever text generator
World-Ready Composer in Adobe CS4
Few references
Import Illustrator files to FontLab
Diacritics
OpenType Feature File Specification, Adobe
OpenType specification, Microsoft
typophile.com
fontlab.com/forum
About font production at Kltf.de
About Eulas