Description
Features:
Over 1200 gyphs in 14 styles;
True form of italics;
Humanist character and proportions;
Extended Latin, Extended Cyrillic & Greek scripts;
For more than 130 languages
Moderate contrast;
Perfect for text, headlines and web;
Coverage of many OpenType features
Ligatures, Small Caps, Case sensitive forms, OldStyle figures, Tabular figures, Fractions
Named after a star and inspired by the cosmos, Alkes traveled a long way from a graduation project to a published multiscript serif type family. Designed with the intention of harmonising between three scripts – Latin, Cyrillic and Greek, the contemporary, yet well defined humanist serif combines the best out of the digital and analog worlds.
Featuring a generous x-height, wide letter spacing, large open counters and angled stress contrast, Alkes is highly effective for editorials and publishing, where long texts and legibility are the key forces. Its attractive details, calligraphic structure and asymmetrical serifs shine through in the larger sizes and make Alkes suitable for headlines.
Alkes has a pull with editorial designers, graphic designers and publishers who aim for a clear structure, hierarchy and coherent non-Latin scripts for both print and on-screen environments, in order to achieve other worldly designs.
Design, Publisher, Copyright, License
Design: Plamen Motev, Nikolay Petroussenko, Kaja Słojewska
Publisher: Fontfabric
Plamen Motev
Type designer based in Sofia, Bulgaria. As a student working with Fontfabric in Sofia, Bulgaria, Plamen Motev designed the free circle-themed slightly condensed retro typeface Phenomena (done together with Radomir Tinkov) and the free 8-style narrow grotesque family Akrobat for Latin and Cyrillic in 2016. In 2017, Plamen Motev and Svetoslav Simov co-designed Uni Neue, a total remake of Fontfabric's earler typeface Uni Sans (2009). He was part of the Fontfabric team that designed the 521-font family Zing Rust, Zing Sans Rust and Zing Script Rust in 2017. Typefaces from 2018: Gilam (by Ivan Petrov, Plamen Motev and Svetoslav Simov: based on DIN, but more geometric and with obliquely cut terminals).
Nikolay Petrousenko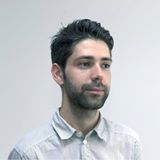 Nikolay Petroussenko is a type designer and artist based in Sofia, Bulgaria. He graduated from the National Academy of Art, Sofia. He worked in Poststudio, a studio for visual communication and later at DecoType in Amsterdam. Currently he is part of Fontfabric in Sofia. Designer of the transitional text typeface Sapienza (2016). He was part of the Fontfabric team that designed the 521-font family Zing Rust, Zing Sans Rust and Zing Script Rust in 2017. In 2018, Jacklina Jekova and Nikolay Petroussenko co-designed Singel at Fontfabric. Singel is a neoclassical serif with semi-condensed proportions for Latin and Cyrillic. Its ten roman weights are complemented with ten quite different italic weights. Codesigner of Mozer (2019, by Svetoslav Simov, Ani Petrova, Mirela Belova and Nikolay Petrousenko: a condensed headline sans family that covers Latin, Greek and Cyrillic; Mozer SemiBold is free).
Kaja Słojewska

During her graphic design studies at PJWSTK in Warsaw, Poland, Kaja Slojewska created Bubble Alphabet (2014) and Tilton (2014, a headline all caps sans typeface). Graduate of the type design program at the University of Reading, class of 2017. Her graduation typeface there was the Latin / Greek / Cyrillic text typeface Alkes (2017). She is presently located in Vancouver, Canada.
Commercial License
Buy at: Fontspring