Description
Nexa Script is a clean version of the famous multifaceted font system Nexa Rust. All fonts from the family was successfully designed to match perfect to the other two members of this huge font system – Nexa and Nexa Slab.
You can be sure that Nexa Script is equipped with the most advanced typographic Open Type features such as extended sets of ligatures, fractions, alternate characters, superscripts and subscripts, etc.
The font family is most suitable for headlines of all sizes, as well as for text blocks that come in both maximum and minimum variations. Nexa Script font styles are applicable for any type of graphic design in web, print, motion graphics etc and perfect for t-shirts and other items like posters and logos.
Design, Publisher, Copyright, License
Design: Ani Petrova
Publisher: Fontfabric
Copyright 2015 by Fontfabric. All rights reserved.
License: COMMERCIAL
Ani Petrova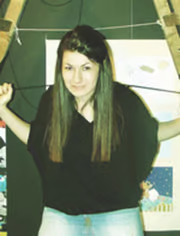 Type designer, b. 1988, Sofia, Bulgaria, who works at Fontfabric, Svetoslav Simov's typefoundry. She completed her Bachelor's degree at The National Academy of Art in Sofia. In 2014 she obtained a Master's degree in type design.

Web:

Typefaces:

Intro Rust Complete

,

Intro Rust, Head, Script

,

Intro Script R H2 Base

,

Intro Head R Base

,

Mixa

,

Sofia Sans

,

Mozer

,

Milka

,

Uni Sans

,

PH

,

Nexa Script

More…

TYPE DESIGN INFORMATION | Ani Petrova
Commercial license
Buy at: Fontspring