Description
Rogan: A Robust Modular Sans
Rogans clean lines started out as an exercise in modularity and geometric forms. This initial construction approach was then adapted to improve the functionality of the family; Breaking away from the strictly modular system in exchange for more refinement and clarity. The resulting forms display a refined contemporary feeling alongside a hi- tech industrial element.
The spectrum of eight weights has been specifically tailored to have styles for every occasion; The hairline Thin and hefty ExtraBold grab attention, and pack a punch at large sizes, while the choice of mid range weights are tailored to finding the right voice for smaller body text. This combined with a palette of complimenting Italics makes Rogan a robust family, suitable for a wide range of uses, both on screen and in print.
Each font contains extensive latin and cyrillic language support, alongside a range of OpenType features such as tabular figures, alternates, localised forms, ligatures and case specific punctuation/symbols.
Design, Publisher, Copyright, License
Design: Andy Lethbridge
Publisher: Hand Foundry
Copyright 2016 by Hand Foundry. All rights reserved.
License: COMMERCIAL
Andy Lethbridge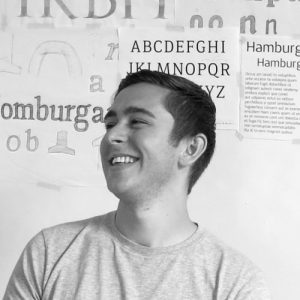 Andy graduated from the University of Portsmouth in 2015 where he studied graphic design. He has always been intrigued by letterforms and during his second year of university he discovered his talent for writing and hand drawing them. Andy went on to study typeface design at the Cooper Union in New York and now specialises in calligraphic and script fonts.