Description
Vary by Olli Meier is a geometric sans serif typeface inspired by Bulgarian Cyrillic.
Vary is fun and adaptable and was built with three feelings (variations): classic, modern, and loopy, offering an opportunity for designers to be playful in their creations.
The inspiration in Bulgarian Cyrillic is seen mostly in the character "g," which was inspired by a very uncommon handwritten "?" spotted by the designer in a shop window in Sofia, Bulgaria. When he flipped this design in 180°, the Latin character 'g' was born for Vary.
Another example is the "R" in the modern stylistic set, which was inspired by the handwritten Cyrillic character "?".
Vary is available as a variable font and also comes with 10 preset instances from Hairline to ExtraBlack.
Design, Publisher, Copyright, License
Design: Olli Meier
Publisher: Monotype
Copyright 2021 by Monotype. All rights reserved.
Olli Meier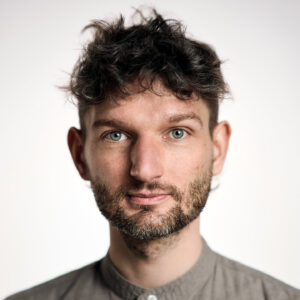 Olli Meier studied Communication Design in Münster, Germany, and Edmonton, Canada. Before joining the Monotype team in the font quality department, he worked as a freelancer for several design agencies, including Meta Design and Stan Hema. He also taught typographic basics at the FHD in Dresden, and his passion obviously lies in design and typography, as well as coding. Today, he works as a Senior Software Engineer for Monotype, being responsible for font tools.