Description
"Since Mommie, I gradually got more into swirly ornaments. The massive contrast in the neoclassic style is perfect for thin swirly extentions to the characters. Even in an upright typeface. Narziss is very elegant in big headlinesizes. Use it only very big.
What was the inspiration for designing the font? Spencerian calligraphies and neoclassic contrast.
What are its main characteristics and features? Narziss is very elegant in very big sizes. The Regular version is without any ornament.
The Drops version has some character like the e and the k that are more unique.
The Swirls version has got carefully added swirls, that come out of the basic stroke and flow into other characters.
Usage recommendations: Big headlines in magazines, brochures and invitations." (Hubert Jocham)
Design, Publisher, Copyright, License
Copyright 2007 by Hubert Jocham Type. All rights reserved.
Hubert Jocham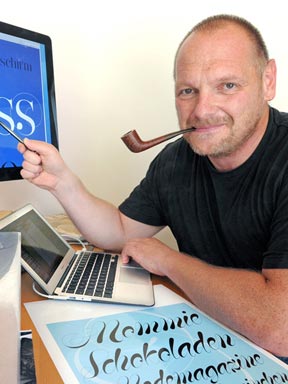 German über-type designer (b. 1965, Memmingen) who studied graphic design in Augsburg (Germany) and Preston (England). His degree project dealt with the history of the italic type of the renaissance and the relationship between roman and italic. In 1998 he moved to London to work for Henrion, Ludlow and Schmidt in corporate branding. He worked at one point for Frank Magazine in London. Today Hubert Jocham is a freelance designer located once again in Memmingen, Germany.