Description
Description
Recontextualizing the 10-point type of a scientific report published in 1873, Nick Shinn has produced sleekly refined, micro-detailed vector drawings by eye, without the assistance of scans, thus presenting an ironic critique of the way in which mechanical imagery beguiles us with the trite veracity of simulacra.
This beautiful genre of type, so popular in books, magazines and advertisements during the Victorian era and much of the 20th century, was derided by advocates of both the Arts & Crafts movement and 20th century modernists, and has never been properly adapted to hot metal, phototype, or digital media — until now.
Now the full range of typographic expression is possible in this style. The OpenType fonts support Western and CE encodings, Cyrillic (with Bulgarian alternates) and Polytonic Greek. There are many special features, including small caps, unicase, italic swash capitals, ten sets of figures per font, and both slashed and nut (vertical) fractions.
Together with Figgins Sans, comprises The ModernSuite of matched fonts.
Design, Publisher, Copyright, License
Design: Nick Shinn
Publisher: Shinntype
Copyright 2008 by Nick Shinn, Shinntype. All rights reserved.
Nick Shinn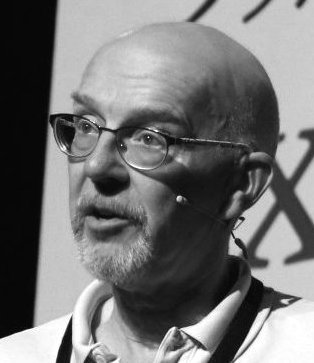 Nick Shinn (b. London, 1952) is an art director and type designer. He teaches at York University in Toronto, and is a founding member of the Type Club of Toronto. He writes regularly for Graphic Exchange magazine, and has contributed to Applied Arts, Marketing, Design, and Druk. He founded Shinn Type in 1999, and made fifteen type families. Interview by Jan Middendorp, in which he describes himself as a contrarian. Pic by Isaias Loaiza. Pic by Chris Lozos at Typo SF in San Francisco in 2012. Custom typefaces have been produced for newspapers such as The Birmingham News (Alabama), The Chicago Tribune, The Daily Express (London), The Daily Mail (London), The Globe and Mail (Toronto), The Montreal Gazette, and The St. Petersburg Times (Florida). Custom fonts, with exclusive rights, have been created for corporations such as Thomson Nelson, Enbridge, Rogers Communications Inc., and Martha Stewart Living. Nick organizes type evenings in Toronto all year long.
Scotch Modern in Use
Commercial License
Buy at: Fontspring