Description
TheAntiqua's proportions are similar to those of the Thesis family members, but with increased contrast between thick and thin strokes, and wedge-shaped serifs. Its diagonal stress subtly refers to the stroke of the broad-nibbed pen.
For a neutral text face to be used alongside TheSans or TheMix, TheAntiquaB is the obvious choice. This family comes in a generous range of seven weights, from Light to Black. The new OpenType fonts have built-in small caps and several styles of numerals, as well as an extensive set of swash initials and endings.
There are two more distinctly different variaties of TheAntiqua:
TheAntiqua Sun was originally made as a corporate typeface for Sun Microsystems; it has sharper details and a simpler structure than other variants of TheAntiqua and is limited to two weights, Regular and Bold.
QuaText. A special newstext version of TheAntiqua was developed in close collaboration with the Berlin newspaper Die Tages­zeitung (taz). Its sturdy forms were optimized for newspaper stock. This font family is currently being reworked and will be further developed with variable weights that can be adjusted to clients' specifications.
Design, Publisher, Copyright, License
Design: Luc(as) de Groot
Publisher: FontFabrik
Luc(as) de Groot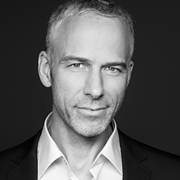 Berlin-based Dutch type designer Luc(as) de Groot is best-known for his superfamily Thesis: TheSans, TheSerif, TheMix, TheAntiqua, with monospaced and even Arabic variants. But his repertoire is much wider and his type became a subtle part of everyday life. Luc(as) has designed custom fonts for newspapers such as Folha de S.Paulo, Le Monde, Metro, Der Spiegel, taz.die tageszeitung, Freitag, Jungle World – in addition to creating corporate type for international companies including Sun Microsystems, Bell South, Heineken, Volkswagen and Miele. He developed two font families for Microsoft: the monospaced font family Consolas, as a successor for Courier, and Calibri, the new default typeface in MS Word.
Commercial License
Buy at: LucasFonts