Description
The script font "Jefferson" is based on real handwriting of Thomas Jefferson. Luckily there is a draft of original text of the Declaration of Independence written by Jefferson available. It was used as a primary source for this font. The Jefferson font was developed by Gennady Fridman for ParaType in 2005. It is in OpenType format with a contextual substitution of letterforms and specific ligatures.
Design, Publisher, Copyright, License
Design: Gennady Fridman
Publisher: ParaType
Copyright 2005 by ParaType. All rights reserved.
Gennady Fridman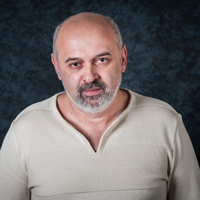 Russian designer of the bouncy script Amore (2004, Paratype), Zubilo Black (2004, Paratype: comic book face), Jefferson (2005, based on the handwriting of Thomas Jefferson), Peter Skoropis (2003, Paratype, based on the samples of Russian handwriting of the reign of Peter The Great (early 18th century) named skoropis), Pushkin One, Two and Three (1999-2004, Paratype, based on the autographs of Alexander Pushkin, the eminent Russian poet (1799-1837)), and the informal handwriting fonts PT Lightning (2009, Paratype), PT Earthquake (2009), Jeff Script (2009, based on the handwriting of Vladimir Yefimov), Nina, Olga, Tatiana, Betina Script, and Katherine (2007, Paratype). Telegraph, designed for ParaType in 2003 by Gennady Fridman, is based on the type of CTA-M-67 telegraph lettersetting machine widely used in the USSR from 1960-1980. The character set corresponds to Rules for Telegraph Connection Service of the Russian Federation.