Description
Once, Blackletter was a calligraphy style. Full of ligatures, with letters bumping into each other to create an unapologetic picket-fence pattern. Some even claimed that the regularity improved legibility! But then Blackletter was cast into metal, and only a handful of established ligatures survived, while most interletter connections were disentangled. Everyone since followed suit, and hundreds of years later, digital Blackletter fonts were modelled mostly on the metal fonts that prevailed rather than the original handwriting. Up until now!
AJ Quadrata is an authentic revival of the textura quadrata hand, and its major inspiration is a 15th-century Latin manuscript of the Bible from Zwolle, the Netherlands. The typeface is delivered in two flavors.
The default cut is a modern take on textura quadrata that can be useful for today and tomorrow. The standard ligatures feature employs nearly all letters. The tittle of i retains its original, hasty squiggle form (except for the Turkish localization). Discretionary ligatures include medieval ligatures da, de, do, pa, pe, po (and their mixed-case counterparts!). Stylistic sets allow to use historic letter variants such as long s and rotunda r, closed-counter a, and alternate capitals.
AJ Quadrata Medieval is perfect for setting medieval Latin. Default forms of capital F, H and O are swapped with the alternates. The squiggles above i only appear for disambiguation nearby m, n or u, as in original manuscripts. Discretionary ligatures and historic variants are promoted to the standard ligatures feature to make room in the discretionary ligatures feature for a variety of scribal abbreviations. Dedicated stylistic sets include medieval punctuation and justification alternates — glyphs with elongated terminals used for lengthening lines that end up too short.
Besides a faithful rendition of extended Latin including Vietnamese, numerous synthetic additions are included: polytonic Greek, Armenian, and Cyrillic (with Bulgarian and Serbian/Macedonian localizations).
Both flavors of the typeface can be considered a starting point that can be further customized using OpenType features, including Stylistic Sets (some features differ between AJ Quadrata and AJ Quadrata Medieval):
ss01 Alt E
ss02 Descending F / Roman F
ss03 Uncial H / Roman H
ss04 Angular O / Round O
ss05 Contextual closed-counter a
ss06 Diamond-dot i j / Always dotted i, j
ss07 Contextual rotunda r / No r rotunda
ss08 Contextual long s / No long s
ss09 Dotless y
ss10 Serbian Cyrillic
ss11 Alt Cyrillic de
ss12 Alt Cyrillic zhe
ss13 Alt Cyrillic sha
ss14-ss17 [reserved for future use]
ss18 Scribal punctuation
ss19 Alt linking hyphen
ss20 Justification alternates
The family consists of 6 fonts:
AJ Quadrata Bold
AJ Quadrata Bold Rubrum
AJ Quadrata COLR Bold
AJ Quadrata Medieval Bold
AJ Quadrata Medieval Bold Rubrum
AJ Quadrata Medieval COLR Bold
The Rubrum styles can be layered and colored to create the illuminated effect on the capital letters. Additionally, experimental COLR/CPAL fonts are provided in black with rubrication controlled by the current font color (supported in web browsers).
Design, Publisher, Copyright, License
Design: Adam Jagosz
Publisher: Adam Jagosz
Copyright 2020 by Adam Jagosz. All rights reserved.
Adam Jagosz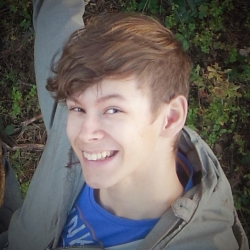 Katowice, Poland-based designer.