{"autoplay":"true","autoplay_speed":3000,"speed":300,"arrows":"true","dots":"true"}
Description
Chimera is the most beautiful monster you've seen. It is an experiment in bringing dynamism and beauty into the traditional reversed con-trast typefaces, which remind us Western movies. Historically these typefaces were intentionally created to be ugly, their letterforms were designed as the opposite of the elegant classics, their weirdness was deliberately challenging expectations and grabbing attention. Defying the rules once more, Chimera twists this quirky concept into an elegant and versatile type family. Influenced by calligraphy with a broad-nib tool held at a steep 45° angle, the quirkiness is suddenly transformed into friendliness. Intended especially for display use, the typeface includes 3 high-contrast statement styles and 2 low-contrast companions. The low-contrast styles retain the same daring character, but are adjusted to perform well in smaller sizes. All the styles in the family are based on the same concept and share certain characteristics, but each one is completely drawn from scratch and brings its uniqueness to the mix.
Design, Publisher, Copyright, License
Copyright 2018 by LLC Contrast Foundry (LLC CoFo). All rights reserved.
Specimen: CoFo Chimera
Maria Doreuli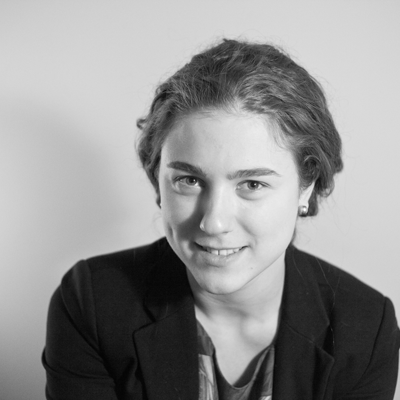 My name is Maria. I was born in Moscow and I have spent most of my life there. My passion for drawing as well as collecting printed ephemera lead me to study graphic design at the Moscow State University of Printing, which is where I earned a Masters Degree. During my time there I explored different subjects within the art and design field, before discovering that the right place for me was the Type Design Workshop. At the workshop I worked on my graduation project, William Typeface, under the head of Alexander Tarbeev, whose influence encouraged me to pursue my love for letters. As a result William received Letter.2, Granshan and NewCyrillic awards. I was also selected for 'Young designer of the year' by Akzia newspaper in 2011.
Alongside my studies, I've been doing commercial type-related projects as a freelancer since 2009, collaborating with various publishing houses and design studios in the field of corporate identity, lettering and type design. I also have a 3-year experience as a full-time graphic designer in Art direction department of the News and Information Agency RIA Novosti (2009–2012). Several of the projects I was working on were selected in Russian Design Rating, one of them received a bronze in Artistic catalogue category of ED Awards in 2012.
Since graduating, I always wanted to have the opportunity to continue my studies in Type Design, at a school that focuses not only on producing typefaces, but on the process of calligraphy, sketching and searching for new directions in design. This is why, last year I moved to the Hague to study on the TypeMedia course at The Royal Academy of Art (KABK). My goal now is to find the way to combine my drawing skills and my knowledge of programming into my design process and see how that affects the end result.
Although my final project at Type and Media is not focused on Cyrillics, I enjoy the process of designing Cyrillic. During my time in The Hague, I had many discussions with my colleague Krista Radoeva about the peculiar differences between Russian and Bulgarian Cyrillics, which lead to further investigation of this topic. This inspired me to do research and collect materials on the history of the Cyrillic script and I hope that in the future my work will be able to improve the look of contemporary Cyrillic typography.
Since 2013 I work as an independent professional based in Moscow. Besides commercial projects, I work on completing my graduation typeface Chimera, which recently received a Certificate of Excellence in Type Design at the Type Directors Club and Morisawa Award.
More… Maria Doreuli
Commercial License
Where to buy: Contrast Foundry