Description
Say hello to Odds – a versatile, chunky casual sans with lots of personality! It's fresh, friendly and easy to read. It is also a great mix of boldness and cuteness, so it definitely captures attention.
The Odds family comes in five distinct fonts styles :
Odds – an artistic handwritten-style sans
Odds Sans – a typical neat and clean sans (caps and small caps which you can mix & match)
Odds Narrow – a cute handwritten narrow sans (uppercase and lowercase), and two awesome sets of goodies:
Odds Extras – borders, arrows, speech bubbles, etc.
Odds Symbols – palm leaves, plants, fruits and other useful objects.
Odds works great on a variety of mediums from web to print, but you can find it particularly useful if you're designing food packaging (actually any packaging) and clothes. Other awesome usages include posters, signage, ads, printed and personalized cards, t-shirts, sale banners, everything kids related – merchandise, toys, you name it.
Its quirky character and fat letters make up for bold and friendly presentation while the slender letters of the Odds Sans and Odds Narrow are perfect for plain text.
And yes, all fonts have Cyrillic! They also have some neat ligatures and alternates to spice up your designs and create more interest!
Design, Publisher, Copyright, License
Design: Veneta Rangelova
Publisher: DearType
Copyright 2017 by DearType. All rights reserved.
License: COMMERCIAL
Veneta Rangelova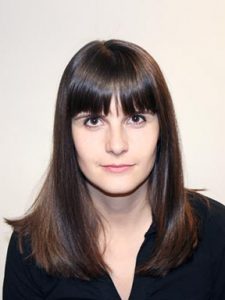 Veneta Rangelova is a graphic designer from Sofia, Bulgaria. She graduated in Clutural Studies and then did a master's in Brand Management and Advertising. She has worked as a logo designer for several years before heading towards branding and building more comprehensive visual identities with Realist. Excited by the impact typefaces and lettering have on people, she created the DearType foundry in 2014, with Lifehack being its best-selling font up to date.