Description
Fits is a modern version of the versatile vintage style script. It's clean, legible and easy to use. Fits was meant to be used as an everyday workhorse font, thus its uses are endless – from websites and signage to merchandise and editorial designs. It looks great on product packaging and menus, being easily readable from afar. It has some initial forms and ligatures, as well as fancier alternates for the capital letters (in case you want to spice things up a bit). Unlike its predecessor, BeachBar, Fits has more basic letter shapes which makes it the perfect script for most day-to-day design applications – think apps, websites, merchandise, posters and cards, blog titles, t-shirts, branding and animation projects, etc.
As promised, Fits comes in seven weights for a different impact and with a neat set of Cyrillic letters.
All in all, Fits is a simple and workable script that will fit most design tasks perfectly.
Design, Publisher, Copyright, License
Design: Veneta Rangelova
Publisher: DearType
Copyright 2019 by DearType. All rights reserved.
License: COMMERCIAL
Veneta Rangelova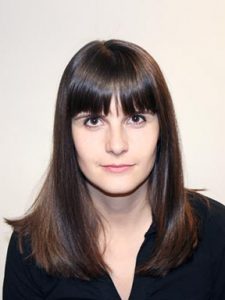 Veneta Rangelova is a graphic designer from Sofia, Bulgaria. She graduated in Clutural Studies and then did a master's in Brand Management and Advertising. She has worked as a logo designer for several years before heading towards branding and building more comprehensive visual identities with Realist. Excited by the impact typefaces and lettering have on people, she created the DearType foundry in 2014, with Lifehack being its best-selling font up to date.