Description
Description
Menoe Grotesque typeface was inspired by an old Continental typewriter. Adam Katyi analyzed the serif typeface on this machine and drew his own sans serif version, keeping in mind the typewriter's tradition.
This typeface is a 10 Pitch font: if you set 10 letters at 12 point size, it will be 10 Pitch (1 inch) wide. Menoe Grotesque is a monospaced typeface; all the characters are in the same bounding box width making it perfect for programming or setting text in columns. It supports both Latin and Cyrillic script and 85 different languages altogether.
The font has many OpenType features, such as: alternative characters in 3 different sets, hybrid figures, basic superiors and fractions, Menoe contains the basic ligatures ll, ii, il, li, and smiley ligatures too, Dutch localised ij and ij acute ligatures, Romanian and Turkish variations, case sensitive forms, ordinals, small capitals, and all small capitals (including those for Cyrillic script).
Design, Publisher, Copyright, License
Design: Adam Katyi
Publisher: Hungarumlaut Type Foundry
Copyright 2015 by Adam Katyi (Hungarumlaut Type Foundry). All rights reserved.
Specimen: Menoe Grotesque (PDF)
Adam Katyi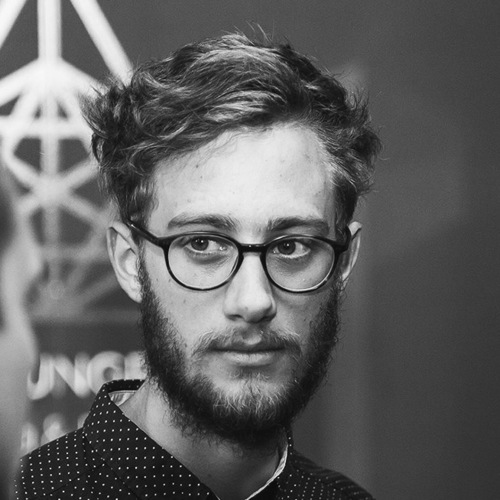 Adam Katyi is a type and graphic designer, teacher. He studied at the Royal Academy of Art TypeMedia course, his final project was Westeinde, a typeface with optical sizes, in 2013. In 2014 Adam founded his own type foundry, Hungarumlaut. Between 2015 and 2016 he worked for Miles Newlyn at Newlyn Ltd, as a part time font-engineer and typedesigner. Adam is a returning teacher in the Moholy-Nagy Art and Design University since 2014. His style is concrete and clean. Adam avoids the equivocation and unnecessary things. His favourite software is RoboFont.
Commercial License
Buy at: Hungarumlaut Type Foundry