Description
The typeface, originally named Afisha Serif, was commissioned by eponymous publishing house in 2005, and has been used in Afisha, Afisha Mir, Afisha Eda magazines, as well as books and travel guides. Later versions of Afisha Serif included extended Latin set, Caption and Display styles. The release of Gauge Type Family includes significantly more styles and glyphs. The Pro versions of Gauge Caption, Text, Head, Display include about 600 ligatures, alternative numerals, fractions, swashes, and ornaments, as well as expanded set of glyphs for most Latin and Cyrillic-based writing systems, e.g. Abkhaz, Bamana, Fula, Kildin Sámi, Vietnamese.
Design, Publisher, Copyright, License
Design: Alexander Tarbeev
Publisher: Alexander Tarbeev
Copyright 2019 by Alexander Tarbeev. All rights reserved.
License: COMMERCIAL
Alexander Tarbeev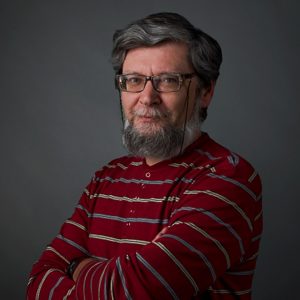 Alexander Tarbeev (b. 1956) is a Russian type designer, author of Cyrillic versions of ITC typefaces like ITC Garamond, ITC Benguiat Gothic, Friz Quadrata and other Cyrillic typefaces. Tarbeev teaches in the Faculty of Graphic Design at the Moscow State University of Printing Arts. He runs TFaces design studio.

Web:

Typefaces:

Brioni Pro

,

Brioni Sans Pro

,

Brioni Text Pro

,

Pollock

,

Graffiti

,

Compact

,

Star

,

Fix Sys

,

Crash

,

Tauern

,

Drunk

,

Wind

,

Xenia

,

Gauge Text Pro

,

Jakob

More…

TYPE DESIGN INFORMATION | Alexander Tarbeev