Description
Vuk Stefanovic Karadzic was a Serbian philologist and linguist who was the major reformer of the Serbian language. In addition to his linguistic reforms, Karadzic also contributed to folk literature, using peasant culture as the foundation. Because of his peasant upbringing, he was closely associated with the oral literature of the peasants, compiling it to use in his collection of folk songs, tales, and proverbs. He was well known abroad and familiar to Jacob Grimm, Johann Wolfgang von Goethe and historian Leopold von Ranke.
This typeface, based on his manuscripts, presents the perfect balance between casual handwriting and careful calligraphy.
Thoroughly created by Vedran Erakovic and Marija Rnjak, it contains a comprehensive set of upper and lower case letter alternates. Thanks to some OpenType features, such as contextual alternates, this typeface approaches handwritten text as closely as possible.
It is ideal for designing greeting cards, quotes, packaging, invitations, fashion layouts and much more.
Design, Publisher, Copyright, License
Design: Vedran Eraković
Publisher: LetterPalette
Copyright 2019 by LetterPalette. All rights reserved.
Vedran Eraković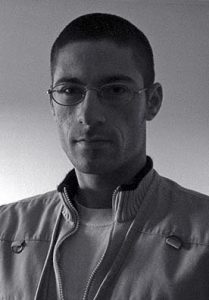 Born on September 30, 1980 in Split. Graduated in 2004 from the Faculty of Applied Arts in Belgrade, the Department of Applied Graphic, where obtained a Master's Degree in 2009. Assistant Professor of Calligraphy and Typeface Design at the Faculty of Applied Arts in Belgrade. Involved in typeface design, calligraphy and graphic design.

Web:

Typefaces:

Vuk

, Orden (2010), PF Adamant Pro (2009), Adamant BG (2008), Champion and Magna, Cyrillic typefaces (2008), Koledar (2004), Narator (2003), Slovit (2003), Skockana (2003)

More…

Tipometar | Vedran Eraković