Description
The Bitstream version of Englische Schreibschrift by H. Berthold, 1970–72.
An unconnected copperplate script of the English nineteenth-century fashion, so-called Spencerian. Based on pressure pointed quill calligraphy. Unlike other copperplate scripts, the letters in this face do not link up.
For use in advertising and display typography in relatively small sizes.
Cyrillic version was developed at ParaType in 2000 by Vladimir Yefimov.
Design, Publisher, Copyright, License
Design: Vladimir Yefimov
Publisher: ParaType
Copyright 2003 by ParaType. All rights reserved.
License: COMMERCIAL
Vladimir Yefimov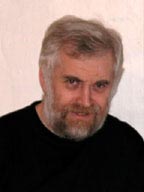 Vladimir Yefimov was one of the most respected Russian type designers. He was born in Moscow, Russia, in 1949, studied at Moscow Art School, and graduated from the Moscow Printing Institute in 1973 as a graphic designer. He worked at the Type Department of NPO Polygraphmash (1973-91) and at ParaGraph Intl., Moscow (1992-98) designing Cyrillic typefaces. He was then the art director and a co-founder of ParaType, Inc., Moscow.