Description
Circe Rounded is an extension for a popular Circe typeface, with rounded terminals. Bold and ExtraBold faces have two variants with different radius of the roundings. Circe Rounded is even more friendly than the original Circe. The typeface is designed by Alexandra Korolkova and Alexander Lubovenko and released by ParaType in 2015.
It is known that the Circe typeface is distinguished by mild and humanist nature being formally a geometric sans-serif. However, as an experiment we decided to make it even softer: Circe now has a version with rounded terminals — Circe Rounded.
Rounding is generally regarded as a mechanical operation, but in this case a lot of manual adjustment was needed because of the humanist nature and peculiarities of type design. Moreover, the two bold styles now have two options: a basic one is slightly rounded and an alternate one is fully rounded.
In Circe Rounded we decided to dismiss characters with swashes that are rather inappropriate in such a rounded font, but the stylistic sets and alternate characters are remaining.
Rounded terminals make an open and friendly typeface even more childish. For example, in quite large point sizes (because the x-height is still not big) it can be used as a body type in infant books. Circe Rounded, similar to Circe, has alternative forms of lowercase characters, which are called "infant" and are used in publications for children's reading. However, a humanist basis is preserved alongside with its softness and it does not allow it to be as "plasticine" as many other rounded fonts.
Two of the most obvious areas of possible application of Circe Rounded are everything for children and everything edible, especially all that is sweet and puff. However, we believe that there are other options.
Design, Publisher, Copyright, License
Design: Alexandra Korolkova, Alexander Lubovenko
Publisher: ParaType
Copyright 2015 by ParaType. All rights reserved.
Alexandra Korolkova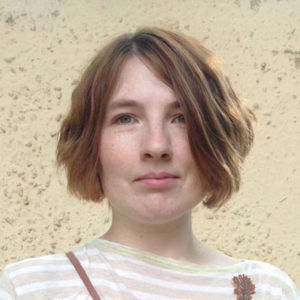 Alexandra Korolkova (born 1984) is a Russian typeface designer. She was awarded the infrequently presented Prix Charles Peignot in 2013 by the Association Typographique Internationale, becoming the first Russian prizewinner. Korolkova's best-known work is probably the PT Fonts project, a partly open-source project commissioned by the Russian Ministry of Communications as a single family able to support all the common variations of the Cyrillic script. Korolkova works for the company ParaType and studied at the Moscow State University of Printing Arts. She is the author of the book Living Typography (Russian: Живая типографика) and has also given lectures on Cyrillic letter structure. She has also designed the typeface FF Carina for FontShop.

Web:

Typefaces:

Leksa

,

Leksa Sans

,

Golos

,

PT Astra Serif

,

PT Astra Sans

,

PT Sans

,

PT Serif

,

PT Mono

,

Kiddy Kitty

,

Circe

,

Circe Slab

,

Circe Rounded

,

Fact

,

PT Sans Pro

,

PT Serif Pro

,

Yefimov Sans

,

Yefimov Serif

,

Stem

,

Stem Text

,

Aphrosine

,

Airy

,

Bowman

More…

WIKIPEDIA | Alexandra Korolkova
Alexander Lubovenko

Talented Russian graphic and type designer who works for ParaType in Moscow.